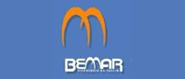 BEMAR S.n.c.

- BANDS FOR THE FOOD INDUSTRY

Via dei Fabbri, 17 - 33085 MANIAGO (PN) (ITALY)
bands for the food industry, with the purpose of meeting the needs of specialized sectors that require high performance, customised blades. A production process based on numerically controlled machinery with CAD-CAM technology and Laser cutting by means of which Bemar is able to produce customised blades and all types of cutting grids for dicing fruit, tubers, potatoes, cheese and vegetables.
Bemar is the result of the profuse know-how of six centuries of feverish history of art of Maniago, from Renaissance up to present day. The evolution of production and the Bemar marketing philosophy find expression in a well-defined line: to satisfy the expectations of its customers by making products that conform to their purpose and that are highly suitable for their specific use. This is one of Bemar's strong points, working on a specific market, manufacturing sharpened blades and
INFORMATION
sharpened blades and bands for the food industry