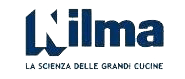 NILMA SPA
Via E. Zacconi , 24/A - 43100 Parma (PARMA) (ITALY)
In the last decades, catering has become more and more important; it now concerns lots of people as well as a higher number of state-run organisations and private companies.

This has clearly pointed out the peculiar problems of large kitchens and emphasized the technological and research guiding principles to work on, in order to identify and make suitable and satisfactory solution:- the raising of the qualitative standards, by respecting both the hygienic, nutritional and organoleptic aspects;- the productivity increase together with labour and operating expenses savings; - the control of expenditure;- the rationalisation of work and working environment.

Nilma was established in 1960 in Parma.

The company embraces this phylosophy, based on the above mentioned innovating aims and takes advantages of the technical experience in the food industry machines of Mr. Pietro Nobili, its promoter.In the sixties, central production catering was in its early stages and Mr. Nobili realized this would be a developing market for specialized catering equipment. He was very confident and knew that this development was largely depending on the solution highly specialized technology could offer.This technology, being originated from a deep experience in the food industry, first of all bases on the knowledge of the product, of its characteristics and of the problems it creates. For these reasons, solution are always innovative.