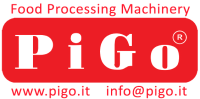 PIGO SRL

- FREEZE DRYING FOR FRUIT PROCESSING

Via dell'Edilizia, 142 - 36100 Vicenza (VICENZA) (ITALY)
Freeze DRYING for fruit processing (LYOPHILISATION) Technology and competitive technologies:
FASTER DRYING WITH LESS ENERGY - Our proprietary freeze drying method reduces drying time by up to 15-20% while consuming less energy.
LOW TEMPERATURE OPERATION - Uniquely designed features allow for low temperature operation cycles which are crucially important for preserving the natural integrity of your product.
FOOD SAFETY FRIENDLY - Great care and determination was put into designing a system that makes accessing and cleaning every component very easy, ensuring bacteria or residue will not get entrapped on any equipment or food surfaces. Only design with fully accessible and cleanable machine interior!
OPERATOR FRIENDLY - All steps in the drying process are designed to facilitate simple, fast and efficient operation and maintenance.