ICF & WELKO Spa

- FLUIDIZED BED DRYING

Via Sicilia ,10 - 41053 Maranello (MODENA) (ITALY)
FLUIDIZED BED DRYING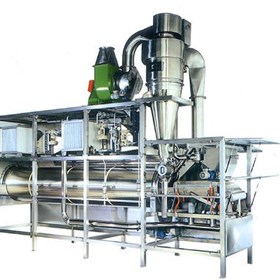 I.C.F. & Welko S.p.A., an Italian company in the mechanical district of Maranello, since 1961 has been planning, manufacturing and installing plants, machines and equipment worldwide for food, chemical, pharmaceutical and agro industry.
Thanks to its complete structure, I.C.F. & Welko is able to supply technical, technological and design support both to experienced partner and customers who wants to come into the market.
On a total surface of about 20.000 square meters (8.000 m² covered) the company organization is mainly divided into:
Sales department with capable sales managers, able to suggest the most proper technical solution to the customer requirements.
Technical department, with highly skilled staff assigned to process analysis and project our plants, supported by up-to-date Data Processing Systems.
Research and Development Centre (R&D), equipped with pilot and industrial units and modern analysis apparatus, working in the factory for the right interpretation of the features of the products to be processed, for the identification of the process variables of the necessary dimensioning and planning elements, and for the proper choice of the plant/equipment components. Furthermore, this structure provides for the technological assistance and for the experimentation of new solutions for plant engineering.


The production departments, quality control, financial and procurement services, after-sales service complete the a.m. organization.
I.C.F. & Welko is a leading provider of equipment and turn-key lines for food processing and is able to supply advanced solutions for spray drying, fluidized bed drying, freeze-drying, evaporation, extraction, aroma recovery , agglomeration, as well as complete lines for instant coffee and dairy powder production.
Each plant is tailor-made on the customer's requirements and provides outstanding performance, high automation level, great flexibility and energy saving.


INFORMATION
Drying plants, agglomerating plants