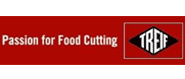 TREIF MASCHINENBAU GMBH
Südstraße 4 - 57641 Oberlahr (GERMANY)
At TREIF, everything revolves around food cutting. We are passionately devoted to this exciting task and want to offer our customers not only the best possible cutting solutions, but also to improve their products' chances on the market.

With our machines, production lines and systems in food cutting and slicing technology, we can make a significant contribution to our customers' success. What enables us to achieve this is our unique range of cutting capabilities and the close working relationship we always maintain with our customers.
Whether for meat, sausage and cheese or bread and confectionery, or for cutting dices, strips or slices, TREIF knows the most suitable cutting technique and exactly how to apply it.
We put body and soul into ensuring our customers get the greatest possible benefits: qualified engineers, motivated sales specialists and experienced service technicians – often master butchers or bakers – work to secure the top-class performance required for providing maximum benefit.
Our goal is customer satisfaction. We hope to achieve this through our unique combination of cutting technology and customer service. Why not see if we can convince you, too?
CONTACT TREIF MASCHINENBAU GMBH