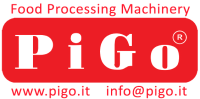 PIGO SRL

- DEHYDRATION AND DRYING FOR FRUIT INDUSTRY

Via dell'Edilizia, 142 - 36100 Vicenza (VICENZA) (ITALY)
Adiabatic Multistage Belt Dryer PG 135 is providing to the user possibility of drying product at lower temperatures, preserving on this way product color, shape, vitamins, as well as all other nutritional values with dehydration and drying for fruit industry.
Possibility of continuous dehumidification of the air during drying process is providing much shorter drying time then standard, and also drying at temperatures range of (usual) 40-60 C.
All this is supported by possibility to control all process parameters, since all drives are controlled by inverters and PLC driven process. It includes all independent belt drives, pressure fans and suction fans.
Entire machinery is realized in stainless steel, including heat exchangers.