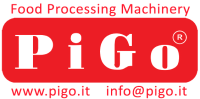 PIGO SRL

- DEHYDRATION AND DRYING FOR FRUIT INDUSTRY

Via dell'Edilizia, 142 - 36100 Vicenza (VICENZA) (ITALY)
PIGO is specialized in building FREEZERS, FREEZE DRYERS AND CONTINUOULS MULTISTAGE BELT ADIABATIC DRYERS, as well as fruit and vegetable processing equipment, product line which includes a broad range of standard and custom unitswith an extensive experience in both freezing and fruit & vegetable processing. Together with our partners, we have installed our machines throughout the world. Our systems have been supplied to companies in Europe, Africa, Australia, USA and Asia by our company and our partners in the industry. Strong internationalization and worldwide market targeting have lead PIGO to endorse and exploit the concept of flexibility in manufacturing of its products.
The user has a possibility to dry product at very low temperatures, with up to 2-3 times shorter drying time, preserving by this product color and quality! Choice of drying temperature is up to user!
Complete machinery is realized in stainless steel and materials that are ideal and approved for use in food industry. Product is conveyed trough drying process by belt conveyor(s). There is possibility to use both stainless steel wire mesh belt, as well as modular plastic belt realized in plastic material supporting up to 190 0C temperature.
Drying process is conducted by PLC, if desired continuously by recirculated air, with possibility of air refreshement by ambiental air. The most efficient products drying, and the best drying effect is obtained using continuously dried air but it is necesseray to provide efficient air drying. Efficient air drying is provided by condenser unit (working on 5-7 0C temperature), installed on the returned air flow.
Number of heat exchanger is determinating number of drying zones, since in each zone is possible to control and set up different temperature, according to product characteristics and requirements ("multi stage drying").
If complete condensing and cooling system are supplied by PIGO, it is possible to use heat produced by cooling unit condenser for heating dried air, and drasticaly (up to 80%) reduce quantity of steam (or other heating source).
EASY Dry PG 135 is equped with partial COP (cleaning on place system), consisting of piping with sprayers, and water collecting basen, providing efficient washing or necessary areas after warking cycle.