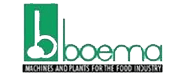 BOEMA SPA
Corso SCAGLIOLA, 197 - 12057 NEIVE (CUNEO) (ITALY)
Boema S.p.A. borned in the 1979 and during the years emerged as a leader company in designing and manifacturing machines and plants for the food industry.

What has allowed Boema to became a leading partner in the food industry surely is attributable to its continous upgrade on customer requirements and to its capacity to develop the designing and manufacturing techniques.

Thank to this Boema S.p.A. has earned an excellent reputation for quality and reliability of its products made by dozens of references testified Italian and foreign industries.

To date, the company works with about 100 employees, mainly specialized in the design, production and installation of machinery and equipment for the food processing industry.


INFORMATION
technologies for the fruits and vegetables products' processing