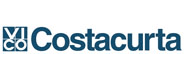 COSTACURTA S.p.A. - VICO

- PERFORATED PLATES FOR THE PRODUCTION OF TOMATO PASTE

Via Grazioli, 30 - 20161 Milano (MILANO) (ITALY)
Perforated plates for the production of tomato paste
Costacurta S.p.A.-VICO is an Italian company specialized in the design and manufacture of metal components for the food industry and more, selling its products worldwide.
Costacurta has gained an extensive experience in the design and manufacture of metal conveyor belts for applications that reach temperatures ranging from approx. -150°C to +1.150°C.
Costacurta conveyor belts are used in a great number of industrial processes in the food sector as well as in many other sectors.
The perforated plates made by Costacurta are used in the tomato paste processing and are able to meet the client's most specific needs.
Thanks to its long experience in the weaving process and the strict Quality System checks, Costacurta is able to produce a lot of types of perforated plates, including special types, always guaranteeing a very high quality. Thanks to the number of looms, the company's organizational flexibility and a large quantity of items in stock, Costacurta is able to meet even the tightest delivery dates.
The production of tomato paste involves extracting the dry substance of a tomato from its organic liquids. The tomato is crushed, heated and then undergoes a pulping process. This phase aims to separate the skins and seeds from the pulpy juice. The pulping process can take place with heat by using pulper machines or without heat using a screw press.
The screw press is a slow-moving mechanical device where a conical screw rotates inside a perforated cylindrical filter. During the pressing phase, crushed tomatoes are pressed with increasing pressure against the metal filter. The holes in the filter allow the pulpy juice to drain out. The juice is then collected and ready to undergo evaporation treatments (in order to make it denser) and pasteurisation.
In the production of tomato paste, Costacurta punched plates are part of the filter in the screw press. When manufacturing punched plates, the quality of material used and the precision of the perforations are crucial elements to guarantee an effective filtration.
Costacurta is also a qualified supplier of leading international companies that are involved in developing technology.
Furthermore, Costacurta offers supervision during installation and assists its clients in the development of new products.
INFORMATION
Filtering elements and fabricated parts; conveyor belts; components for the oil, petrochemical and chemical industries
Bottling, packaging, food industry
with a covered area of around 40,000m2
ISO 9001, ISO 14001, OHSAS 18001
Unione Industriali di Lecco
Costacurta b.v., Santpoort Holland
CONTACT COSTACURTA S.p.A. - VICO