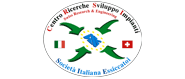 CRSI - CENTRO RICERCHE SVILUPPO IMPIANTI

- ROTARY DRYERS FOR FOOD INDUSTRY

via Comunale 10 - CH-6807 Torricella (TAVERNE) (SWITZERLAND)
Rotary dryers for food industry
The rotary dryers for food industry are all those equipment in which the product in drying slipped inside a rotating cylinder.
Our product range includes
-Rotary R: direct exchange
-Rotary RC: calciner
-Rotary RI: indirect exchange
Construction features

The rotary dryers for food industry "S.I.E." It is a unit of robust construction and reliable.
The cylinder made of steel sheet thick Cellular is completely within the types of diameter greater than 1000 mm.
The models of dryers rotary food industry smaller are provided with a system of blades staggered so as to ensure the best distribution of the product on the section of the dryer.

The cylinder runs on two railway rolling equipped with rollers and hardened thrust centering.
The movement is obtained with chain, pinion and gear wheel from the gearmotor unit.

The ski standard rotary dryers for food industry are completed by a metal combustion chamber with cast refractory cement and a group cyclonic high efficiency downstream of which is mounted the fan.

The rotary dryers for food industry up to 800 mm diameter are completed by a frame where are mounted the rolling stations, and are shipped in package units.
The plants for food industry rotary dryers can be in either cocurrent that in countercurrent.
The material is usually steel C. E 'possible the use of stainless steel where the product so requires.
CONTACT CRSI - CENTRO RICERCHE SVILUPPO IMPIANTI