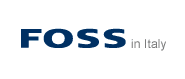 FOSS ITALIA SPA
Corso Stati Uniti, 1/77 - 35127 Padova (PADOVA) (ITALY)
FOSS provides and supports dedicated, rapid and accurate analytical solutions. Instruments which analyse and control the quality and production of agricultural, food, pharmaceutical and chemical products to the enhancement of our customers' business.
MALTING AND BREWING INDUSTRY
For the malting and brewing industry, the accurate analysers from FOSS supports the work for increased profitability. Precise analysis can optimize the selection of raw materials, reducing waste and production costs. Furthermore accurate in-line monitoring of parameters allows rapid decision making in process.
CONFECTIONERY
FOSS offers fast, accurate and easy-to-use solutions for very different kinds of production such as: cocoa liquor, cocoa butter, cocoa powder, crumb, finished chocolate and coatings.
The solutions cover: fat, moisture, sugar, sucrose, lactose, and pH as well as quality tests to assure homogeneous product, recipe control, as well as microbiology tests such as total viable count, enterobacteriaceae, coliform, E. coli and yeast.
MILLING INDUSTRY
Using Infratec™ 1241 Whole Grain Analyser millers can analyse whole grain or flour with a single instrument - realising efficiency improvements throughout production. One instrument covering both flour and grain minimizes the number of analysis instruments. It makes it simple to implement and run an analysis solution. And the need for just a few robust and highly versatile calibrations saves time and money too.
MEAT INDUSTRY
We offer a range of dedicated solutions, which determine the hygienic and chemical quality of raw meat (beef, pork, mutton, chicken & turkey), intermediate products of meat (i.e. fillings for sausages) and final products like cooked and cured sausages, dry sausages, ground beef, patties, cured ham, cooked meat and much more. A range of in-line fat standardisation solutions are available.
DAIRY INDUSTRY
We offer a complete range of dedicated solutions, which determine the hygienic and chemical quality of raw milk and dairy products all along the value chain - solutions which apply from dairy herd improvement over payment for raw milk into standardisation and check of mass balances in the dairy, and finally verification of end-product quality.
OLIVE OIL PRODUCTION
At FOSS, we understand that tradition is the basis for the world's finest olive oil. At the same time, the olive oil industry faces exactly the same challenges as any other contemporary business. Our world demands more than a product with the right taste, look and feel. Classifications are increasingly important to categorise products.
INFORMATION
Beer and wine industry, confectionery industry, flour production industry, meat industry, dairy industry