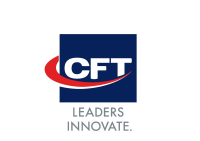 CFT S.p.A.

- COMPLETE SOLUTIONS FOR PRESERVING INDUSTRY

Via Paradigna, 94/A - 43122 Parma (PARMA) (ITALY)
Complete solutions for preserving industry
With over 900 employees, more than 15.000 references, 15 brands, 6 production facilities, and a widespread network of 10 subsidiaries and more than 90 agents, CFT Group is synonymous of quality, innovation and reliability worldwide.
CFT Group designs, engineers and manufactures machineries and complete turnkey lines for the Food, Liquid Food and Beverage industry. Decades of experience and know-how of leading brands in their respective sectors, such as Rossi & Catelli, Manzini, Sima, Comaco, SBC, Levati, PKS, Comac, Rolec, Raytec and Milk Project allow CFT GROUP to offer a complete equipment portfolio based on the most advanced technologies.
Everyday millions of tons of fresh products are processed by our plants; millions of cans, bottles and special containers for multiple applications: CFT Group solutions help you reach higher performance.
Write to ItFoodOnLine to contact: (CFT S.p.A.)