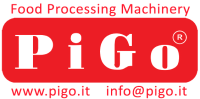 PIGO SRL

- FRUIT PROCESSING LINES

Via dell'Edilizia, 142 - 36100 Vicenza (VICENZA) (ITALY)
Fruit processing lines
PIGO is the world leader in fruit PITTING / DESTONING machines production, and we provide complete lines for processing most types of fruit.
The program of Pigo covers most of the operation in conventional fruit processing such as:
In feed equipment – Reception of raw material
Air Separation (Separation of light foreign particals such as leaves etc.)
Washing
Conveyors & Elevators
Dewatering equipment
Calibrating / Sorting / Grading
Destalking / Destemming
Pitting / Destoning
Cooking
Pulping
Freezing
Deaeration
Dehydration
All PIGO equipment and food processing lines are completely made of stainless steel and manufactured to ISO and HACCP food processing industry standards. Painted surfaces are not used because they do not meet these standards.
The success of PIGO machines is the result of precise engineering and manufacturing and many years of industry-driven refinements.
Write to ItFoodOnLine to contact: (PIGO SRL)