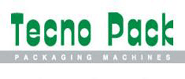 TECNOPACK S.p.A.

- PICK AND PLACE UNIT

Via Lago di Albano, 76 - 36015 Schio (VICENZA) (ITALY)
Pick and place unit


As a market-leading company, Tecno Pack offers solutions that are always specific and designed for each field of application, focusing especially on the food sector.

Tecno Pack provides all the packaging technology required by your company, from small, electronic flow pack packaging machines with manual loading to a complete system that collects products from production and stores them in single or multiple packs, which are then transported to be palletised.


High speed, flexibility, modified atmosphere, product shelf life, and global integration of packaging in the company system are just some of the key issues that Tecno Pack tackles on a daily basis with enthusiasm and determination. Thanks to partnerships with its customers, this approach ensures plenty of room for new developments.


The company's goal is to achieve technological excellence, in compliance with the needs and developments of your business, therefore achieving your full satisfaction over the years.

Tecno Pack looks forward to working with you and to play a crucial role in ensuring the success of your company. Tecno Pack stands for technology, expertise and service in the primary and secondary flow pack and pillow pack packaging sector.
INFORMATION
Horizontal flow pack wrappers; automatic mechanic forming machines
Confectionery, meat industry, bakery industry, dairy industry, fishing industry
Write to ItFoodOnLine to contact: (TECNOPACK S.p.A.)