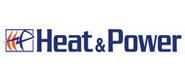 HEAT & POWER s.r.l.

- COGENERATION FOOD INDUSTRY

Strada Ribrocca, 11 - 15057 Tortona (ALESSADRIA) (ITALY)
Cogeneration food industry
Founded in 2004 and headquartered in Tortona (AL), Heat & Power is part of the first group of European companies that started operating as ESCOs and currently operates the largest network owner cogeneration food industry at the service of industrial sites, commercial and civil. Thanks to its extensive experience, gained in the field, Heat & Power also offers advice on energy efficiency.


Heat & Power is the leader of a small grouping industrial controls with 51 percent of the shares of INTERESCO, based in Alba (CN), dedicated to the recovery of thermal energy from industrial processes by using cogeneration food industry. Heat & Power also controls 100% Green & Co2, consultancy and specialist services in energy saving and the use of renewable energy. Both Heat & Power INTERESCO that are certified UNI CEI EN 11352.



With the latest ignitions, H & P shall operate approximately 25 cogeneration plants for over 20 MWe, of which 20% from renewable sources. Among the examples of cogeneration food industry most interesting you can remember the plant in progress at the plant Pantheon of Capua, which produces pharmaceutical intermediates (active antibiotics, antiseptics, anti-allergic), a type of production that makes use of large amount of thermal energy (to keep temperature in the fermenters) and cooling (to preserve the products). Heat & Power is installing at the plant a trigeneration system based on an internal combustion engine from 1.56 MW electric operating on natural gas with a steam generator and an absorber lithium bromide for the production of cold water.


In addition to the cogeneration food industry, Heat & Power proposes to companies engaged in energy efficiency projects a new "turnkey". The service Help-TEE expected Heat & Power manages in "turnkey" documentation, the request from the GSE (with management of any requests for clarification and modification) and obtaining TEE (Energy Efficiency Certificates) for interventions not made directly from Heat & Power.

The service covers the TEE (resulting from efficiency measures electricity consumption and thermal), CB (relating to cogeneration food industry, high efficiency, CAR) and incentives stemming from the use of renewable sources. Help-TEE is part of the portfolio of energy consulting services of Heat & Power, which also includes audit and qualification of energy CAR and sites SEU-SEESEU.
INFORMATION
Continuos generation of heat and electric power
Tri-generation: cooling energy production starting from thermal power produced in co-generation
CONTACT HEAT & POWER s.r.l.