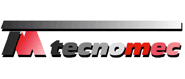 TECNOMEC SNC

- COOKING INDUSTRY FOOD

Via Boni, 35 - 43029 Traversetolo (PARMA) (ITALY)
Cooking industry food indispensable for preparation and cooking of various types of products: from cream to jams, from chicory to condensed milk, from béchamel to polenta, meat sauce, mushrooms, vegetables and many other products.

Food industry cookers are extremely versatile machines, exist in various versions, with fixed speeds or with electronic variator. From the technical point of view, these are food industry cookers built entirely of strictly food-grade stainless steel, meeting the EC standards, equipped with safety locks that make it easy and safe to use.

The mixing tool at the center of the food industry cookers is equipped with side and bottom drains to prevent any gluing of the product to the tub walls.
The cooking temperature control is carried out via an electronic thermostat which can be integrated with a timer to timing the operation of the resistors and the mixing tool.

Application at the request of the programmer for work cycles and the ability to choose various food industry cooking skills truly complete the painting, thus providing a working tool open to all the needs: from pastry to gastronomy.