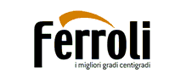 FERROLI Spa

- INDUSTRIAL BOILERS

Via Ritonda, 78/A - 37047 San Bonifacio (VERONA) (ITALY)
Industrial Boilers Division, producing various types of industrial boilers, with a range of outputs. The Division employs a workforce of 80, and operates its own sales network and specific technical office.
The strong point of the Industrial Boilers Division has always been quality, earning it a position of prestige and even leadership in sectors affected by high heating costs, such as the textile industry or biomass sector, and which are governed by strict atmospheric emission controls.

All industrial products are manufactured in complete respect for the environment and are designed to save energy, in compliance with Italian and international standards.

Ferroli spa has set up a 20,000 sqm factory (15,000 sqm indoors) exclusively for the
INFORMATION
food industry, textile industry, biomass sector