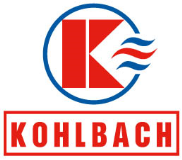 Kohlbach Energieanlagen GmbH

- SYSTEMS COMBUSTION CHAMBER FOOD SECTOR

Grazer Straße 23 - A-9400 Wolfsberg (AUSTRIA)
Systems combustion chamber food sector
The systems combustion chamber alimentary sector used are designed individually according to the fuel used, and shall burn optimally a variety of fuels. For each fuel have a combustion chamber suitable: sawdust, bark, wood chips, wood from environmental maintenance, renewable wood, very wet or dry fuels with a very high ash content, fuel and heterogeneous large or fuel purposes, to be integrated in agricultural fuels - Your solution is our combustion chamber!

Here are two examples of systems combustion chamber food sector

systems combustion chamber alimentary sector K8

Technology combustion chamber

Combustion chamber in reverse flow with mobile grid and compression zone water cooled

Thermal power for combustion

from 525 to 7,675 kW

Fuel

Water content [Weight-%]: 20 to 60 depending on equipment
Size [length mm]: 30 to 100
Maximum ash content [Weight-%]: 5
Versions

Ash extraction mechanics OR automatic ash extraction to reduce system maintenance thus ensuring long periods of availability without downtime

Suitable for all boiler systems (water, steam, thermal oil)

Optional

Recirculation combustion gas and / or air preheater for a further expansion of the range of fuels that can be used
On customer request available in versions for integration of specific agricultural biomass (miscanthus, cobs, etc.).
Your advantage thanks to Kohlbach

Combustion chamber reverse flow compact and adiabatic for optimal performance and low emissions with a very heterogeneous fuel
Equipped with hydraulic moving grate, suitable fuel much wet and messy, with high ash content, even to 100% wet bark
Pusher fuel with hydraulic cutting unit for a safe dosage also wet fuels or of large
Rated load reliably for all fuels used and watery content
Reliability and long life of the combustion chamber because refrattariata and thanks to the cooled grate water
A loading area and compression of the fuel completely water cooled for a longer duration and for a partial load of the system in the process of switching on and off best
Quick assembly and reduced expenses thanks to prefabricated modules
systems combustion chamber alimentary sector K13
Technology combustion chamber

Combustion chamber to flow in only one direction with moving grate, pan upstream and fuel metering auger

Thermal power combustion chamber

from 900 to 6,800 kW

Fuel

Ideal for pellets as EN14961-2 quality of A1, A2 and B (industrial pellets)

Water content [Weight-%]: ≤ 10

Size: length from 3.15 to 40 mm, diameter 6 and 8mm

Maximum ash content [Weight-%]: 3

Versions

Ash extraction mechanics OR automatic ash extraction to reduce maintenance thus ensuring long periods of availability without downtime
Suitable for all boiler systems (water, steam and thermal oil)
Optional

On customer request available in version for mixing special agricultural biomass (miscanthus, cobs, etc.).

Your advantage thanks to Kohlbach

Pellet boiler industrial version for standard use ENplus pellets, industrial pellets, and wood chips, to enjoy greater independence from the fuel market
Moving grid electricity, especially for quality of pellets variables or different from the norm
Without voltino into the combustion chamber; it thus avoids the deposition of ash is considerably reduced and the maintenance
Fuel metering auger with single or multiple for optimal dosing and precise fuel also very fine
Combustion chamber to flow in only one direction compact for optimal performance and low emissions
Rated load reliably for all fuels and watery content usable
Reliability and long life of the combustion chamber because refrattariata and thanks to the frame of the grid and to the cooling of the combustion chamber cooled with water from the boiler
Quick assembly and reduced waste thanks to prefabricated modules

systems combustion chamber food sector for ash extraction

Also with regard to the extraction ashes you have available many different possibilities:

Mechanical ash extraction system via the mobile manual or electric

Automatic ash extraction via screw conveyors, conveyor ashes hydraulic, chain conveyor or conveying system ash water, which reduces maintenance costs and ensures long periods of availability with no downtime

Particular solutions, such as for example extraction systems ashes to elevation, and circular movement of the container ashes, etc.

We attach great importance to an extremely robust construction to ensure unalunga durability and trouble free operation of the entire plant.
These versions of ash extraction are largely developed and manufactured inside the company.
CONTACT Kohlbach Energieanlagen GmbH