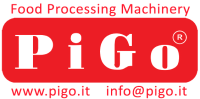 PIGO SRL

- FREEZE SPYRO FOR FOOD INDUSTRY

Via dell'Edilizia, 142 - 36100 Vicenza (VICENZA) (ITALY)
Freeze SPYRO for food industry is considered as the freezer with the most superior sanitation, since unit has no mezzanine floor or intermediary platform, avoiding any dirtiness accumulation.
All drive units are placed outside the insulated cabine, with no any open lubrication inside the freezer, and no risk of product contamination.
Horizontal air flow – all product is directly hitt with the coldest air (immediately after evaporator), providing immediate crust freezing and no weight loss of the product.
Longer working cycle due to evaporator design.