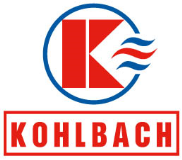 Kohlbach Energieanlagen GmbH

- COGENERATION FOOD INDUSTRY

Grazer Straße 23 - A-9400 Wolfsberg (AUSTRIA)
Cogeneration food industry
Reliability in the supply of heat and electricity with cogeneration food industry

The simultaneous production of electricity and heat derived from biomass is the summit of the possibilities of use of biomass. Moreover boilers Kohlbach are matched to the power turbine on the market offer a good cogeneration food industry:

Boiler high pressure steam for turbines and steam engines: duct exhaust gas (boilers with large rooms reserve of water) up to 40 bar or (pipe boiler water) for higher pressure levels, low 6,000 kW.
Thermal oil boiler plants for ORC (Organic Rankine Cycle): for small plants with cogeneration of electrical 200-2200 kW, operating without pressure, very high total returns of plant, operating at partial loads excellent, proven technology and very long-lived.
CONTACT Kohlbach Energieanlagen GmbH