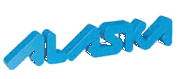 ALASKA srl

- INDUSTRIAL REFRIGERATION SYSTEMS

Via S.Alberto, 1850 - 40018 S.Pietro in Casale (BOLOGNA) (ITALY)
industrial refrigeration systems, has became an Italian firm that manufactures and exports all over the world.
The long way it has come represents the techincians' experience and will, the capacity and the ongoing quality effort of the staff, the energy of the trading activity aimed at an untiring and constant contact with customers. The company's strategy is still improving its competitiveness that is more and more connected to technological innovations, to quality and production system rationalisation, to the commercial utilisation of new technologies and to the improvement of technical and commercial servicing provided to costumers. Through constant relations with the customers and suppliers as well as with the dedication of the staff and the ongoing improvement of the products, Alaska is able to look to the future with confidence and optimisms.


Alaska srl, during 30 years of activity in the field of
INFORMATION
Industrial refrigeration systems