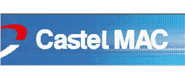 CASTEL MAC spa

- MACHINES FOR BAKERY

Via del Lavoro, 9 - 31033 Catelfranco Veneto (TREVISO) (ITALY)
machines for bakery, pastry and ice-cream production under the trademarks Icematic and Tecnomac. Castel MAC has a deep knowledge of the refrigeration techniques, which allows to obtain a perfect production process. The products undergo frequent lab tests and are carefully installed, because the goal is to prevent defects. Products are checked and tested under particulary demanding conditions, in order to ensure the respect of Total Quality standards. The ISO 9001 - VISION 2000 certification is the evidence of Castel MAC devotion to quality, along with all other certifications obtained by several international organizations. Castel MAC is located in Castelfranco Veneto (Treviso), Italy. The covered industrial surface is of over 25,000 square meters, on an area of 56,000 square meters. The Company is then supported by a widespread distribution and service network, able to fulfil market requirements.
For over 40 years, Castel MAC has been researching, manufacturing and selling all over the world foodservice equipment and
INFORMATION
Refrigeration equipment and machines
Bakery, pastry and ice-cream production