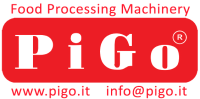 PIGO SRL

- IQF FREEZING FOOD INDUSTRY

Via dell'Edilizia, 142 - 36100 Vicenza (VICENZA) (ITALY)
IQF FREEZING food industry: Perfect shape of IQF product and no clumps. Full controlled fluidization method keeps the product constantly suspended above the belt in a cushion of air. The result is the immediate crust freezing and efficient core freezing of individual pieces, regardless of type, variety or condition of product, without any weight loss. Maximized freezing efficiency for each unique product whether the product is heavy, light, soft, sticky or fragile.