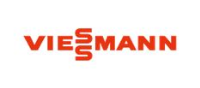 Viessmann Srl

- HEATING SYSTEMS FOR FOOD INDUSTRY

Via Brennero, 56 - 37026 Pescantina (VERONA) (ITALY)
Heating systems for food industry
The Viessmann Group is a leading international manufacturer of heating systems for food industry. Viessmann, founded in 1917, is a family business run by a board of directors chaired by Prof. Dr. Martin Viessmann.
The Group's turnover of over 2.2 billion euros and the company has about 11,500 employees.

Viessmann is present with 22 production sites and design heating systems for food industry in 11 countries, with sales organizations in 74 countries and 120 stores worldwide; this denotes its strong orientation to internationality.
56% of turnover is generated in foreign subsidiaries.

Full range for all energy sources and applications

One- or two-family from the house to large residential, commercial and industrial buildings by the local district heating networks, Viessmann is able to offer the ideal solution with heat generators for all sources of energy in the capacity range from 1.5 to 120,000 kW.

The wide range of products includes Viessmann condensing boilers from 1.9 to 150 kW, standing condensing boilers from 1.9 to 6000 kW cogeneration units for operating gas or biogas from 1.0 to 401 kWel and from 5.3 to 549 kWth.

This rich range also includes heating systems for food industry for renewable energy sources, such as solar panels floors and vacuum tube for the production of sanitary hot water for domestic use, the integration of heating systems for food industry and cooling of building, special boilers and wood fired boilers from 4 kW to 50 MW for firewood, wood chips and pellets, heat pumps from 1.7 to 2,000 kW for the exploitation of geothermal heat, groundwater or ambient air and solar panels .


Viessmann offers a comprehensive range of products and services related to biogas technology, from design and construction of the raw materials management and operational supervision. The company has adopted a completely new approach to propose cogeneration plants Vitobloc, now offered in a package that also includes an agreement for the supply of natural biogas, produced respecting the environment: these blocks are as interesting operators so much from the economic point of view as for the respect for the environment.

The range also includes adjustments and devices for data exchange as well as the entire system-system, from the storage tanks of fuel to radiators and underfloor heating systems.

Wide range of services to the customer

Viessmann offers its partners a range of 360 ° to make it significantly easier for their daily activity.
These services include support by the Technical Service, sofware that meet specific needs, such as for the design of heating, support in the form of advertising and sales promotion, a system of information and online ordering easy and always available on the Internet .

The Viessmann Academy

The market structure of the heating systems for food industry is evolving towards energy efficiency and renewable sources, and this leads to a widening of the technological spectrum and an increase in training requests from trading partners. The Viessmann Academy was born precisely to meet these needs. It offers an extensive program of training courses in basic and advanced level for managers heat, designers, architects, builders, chimney sweeps, technical training institutions and also for their employees. Every year more than 92,000 specialists attend worldwide courses Viessmann Academy.