String cheese, one of the new fashion snack around the world, has been chosen as 10 Healthy Snacks To Eat At Your Desk by Forbes Magazine because it is high in protein and it offers a bit of fat and has only 80 calories.
String cheese is also a very popular daily snack for children, therefore a perfect peelability is highly requested since kids see it not only as food but also as an object to play with during eating.
According to the increase request of the string cheese production in the dairy market, MilkyLAB offers different solutions in order to respond to all demands. With MilkyLAB lines you can produce not only "traditional string cheese" from milk and curd, but also "analogue string cheese" by using powder ingredients like rennet casein or modified starch.
MilkyLAB automatic line for the production of string cheese consists of:
Steam cooker-stretcher
Automatic moulding machine with special extruding system
Cooling system
Automatic cutting system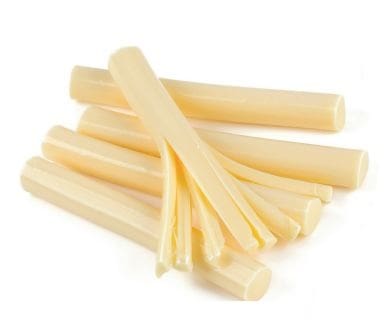 With such a line our clients can produce string cheese with fixed diameter and adjustable length. Thanks to its innovative characteristics, the automatic string cheese line reduces manual working by achieving energy and costs savings as well as high yields of production in less time.
MilkyLAB manufactures its cookerstretcher with an exclusive steam technology characterised by direct steam injection or by steam injection in the double jacket at 4 bars, thanks to the double walls made in stainless steel AISI 316. Respect to the classic mixing systems, our cooker-stretcher has N. 2 bi-directional augers activated byN. 2 independent motor reducers. These augers guarantee the perfect structure for the product.
The special extruding system allows to obtain separated parallel cords of cheese. Thanks to this special extruding system the structure of the product will have a perfect shape and predetermined weight, meanwhile the peelability and consistent texture will be guaranteed.
The cooling system is composed by independent transportation channels for each string cheese. While the string cheese goes forward, the nozzles will spray cold/brine water on it. The water temperature will be controlled by plate heat exchanger.
The automatic cutting system has independent blades, one blade for each cord of cheese. The whole production line completely arranged with cover and spraying balls for automatic CIP cleaning in order to guarantee the perfect sanitation.
MilkyLAB offers you its Trial & Training Center®, a center of trials, tests and training, where you can experience and learn to produce string cheese as well as other dairy products, such us:
 Fresh mozzarella and pizza cheese
 Analogue mozzarella for pizza topping
 Processed cheese and cream spreads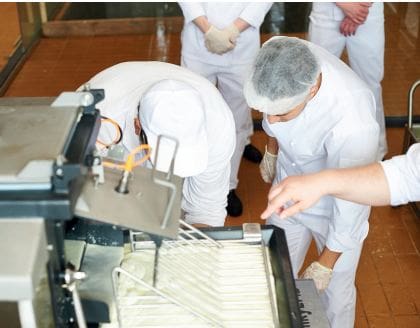 This Trial & Training Center® is created and managed by our technicians with proven experience, who can help to our clients to develop their new recipes by using different machines from the vast MilkyLAB range.
MilkyLAB has been a leader in designing and producing machines and automatic systems since 1980. The company offers equipment with high Italian technology for the
production of:
MOZZARELLA
PIZZA CHEESE
ANALOGUE CHEESE
PROCESSED CHEESE
Thanks to the experience and knowhow acquired over the years in the Italian and international dairy industry, MilkyLAB guarantees clients the best assistance and maximum professionalism in the choice of the right technologies.
Contact MilkyLAB straight away and choose the best machine for your needs.
Visit:
www.milkylab.it