As happens in complex and repetitive processes, automation and robotics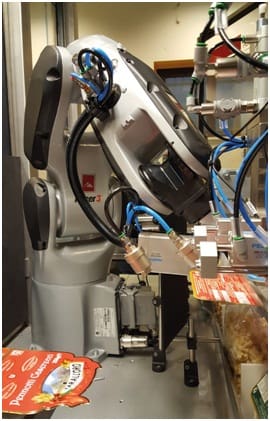 make a concrete contribution to the maintenance of high quality standards. Automating repetitive tasks allows companies to improve working conditions.
For this reason Comau works with its System Integrators to create robotised, flexible and complete systems, characterized by 360degree automation, capable of making the customer's production process even more functional and efficient.
Comau strengthens its presence on the territory with highly qualified professionals, thanks to which it can explore new business targets with hightech solutions also in the General Industry sector and with particular attention to the food sector. With its Delta Automation integrator, Comau offers a new system for the world of pasta: an eyeleting machine with Racer3. The smallest robot in the Comau robot family is integrated with vision systems for quality control in production lines that can be monitored and regulated by simple touchscreen panels.
The automatic labeling and eyelet machine is integrated with a small 6axis, 6axis Comau robot, which picks up the label and deposits it on the package, thanks to a sophisticated vision system. The latter detects the 3D position of the edge of the package ensuring the perfect positioning of the label on the envelope. Once the pasta package has been checked, the machine inserts the jumper on the pasta pouches and blocks them with two metal eyelets. This system allows the eyelets to be riveted with high precision and uniformity thanks to the management through an easily adjustable electronic axis. High flexibility makes it possible to produce a wide range of formats with rapid production changes.
At the end of the line there is an anthropomorphic robot Racer71.4 dedicated to palletizing the boxes, which are sent to the shipping warehouse. The robotized solution designed by Delta Automation has enabled the customer to achieve high quality and precision. Thanks to the flexibility and rapid technological conversion, the customer has been guaranteed a diversified production in terms of labels. Thanks to the Comau anthropomorphic robots for handling products and boxes, Delta Automation also offers ultrasonic portioning machines, dosing machines built to customer specifications.
These solutions fully meet the requirements of Industry 4.0. integrating data on factory information systems. The Comau and Delta Automation integration also provide a service to companies by offering flexibility, assistance, lines tailored to the needs of the customer and all that is innovative and which allows to achieve productivity, quality and competence. Based on complete trust, we establish a longlasting partnership with customers, employees and suppliers. Highly specialized people follow the customer in all the phases of realization of the plants up to the assistance in production.
These are the bases to accompany the customer's company in the process of industrial revolution, to be competitive and in step with the times.
www.comau.com