OCME, Italian multinational company based in Parma for 62 years, is one of the world's leading manufacturers of packaging machines, filling, palletising and handling systems.
Federico Sartori, OCME Machines Business Unit Manager OCME explains:
"A rapidly evolving market needs a palletising solution that is just as fast, the Advance Range has been created to overcome the current speed limits at the end of a production line and gives our customers the fastest solution on the market, so meeting the ambitions of our customers "
The Advance Range, a new series of high performance products, is composed of: Pegasus Advance (robot palletiser), Orion Advance (in-line palletiser) and Vega Advance (shrink-wrapping machine).
THE FASTEST ROBOT PALLETISER ON THE MARKET
PEGASUS ADVANCE can reach 630 layers/hour, thanks to the unique OCME patented technology of the gripping head. It allows palletisation at low level by using the layout flexibility typical of robot systems. The OCME experience with this technology is combined with top of the range quality standards and maximum attention to safety.
THE NEW OCME LOW LEVEL PALLETISER AT HIGH SPEED
ORION ADVANCE was created for the beverage industry, it is used in all those areas which demand a combination of accessibility, compactness and speed. Technology and security come together to ensure a high quality product that can meet a palletising speed from low level of 570 layers/hour. The acknowledged priority of OCME for the environment meets the need for energy savings associated with high efficiency. The Orion Advance uses brushless motors and energy recovery.
VEGA ADVANCE IS THE MOST POWERFUL OCME SHRINK-WRAPPING MACHINE
Able to reach 150 cycles/minute with film only and 120 cycles/minute with tray + film. It has selection with fingers and counter fingers by brushless motors and an oven which ensures a high quality of retraction of the film. The film cutting and automatic film splicing of the reels are OCME patented systems. With Vega Advance, energy saving and safety are in unison with high level performance and easy maintenance.
In 2016 we have already planned over 30 events, an increase of 17% compared to 2015, thanks to the launch of OCME EVENTS (Seminars, Conferences organized by OCME). Do not miss the OpenHouse, conferences and internal events. In addition, we will participate in 18 trade fairs in 13 different countries – this is where you can find us:
UPAKOVKA, Moscow – Russia from 26/01/16 to 29/01/16
PROPAK VIETNAM, Ho Chi Minh City – Vietnam from 01/03/16 to 03/03/16
LOGIMAT, Stuttgart – Germany from 08/03/16 to 10/03/16
TISSUE WORLD, New Orleans – USA from 14/03/16 to 17/03/16
PROPAK AFRICA, Johannesburg – South Africa from 15/03/16 to 18/03/16
IRAN FOOD + BEV TEC, Tehran – Iran dal 30/05/16 al 02/06/16
CEMAT, Hannover – Germany from 31/05/16 to 03/06/16
FISPAL, San Paolo – Brazil from 14/06/16 to 17/06/16
PROPAK ASIA, Bangkok -Thailand from 15/06/16 to 18/06/15
PROPAK CHINA, Shanghai – China from 13/07/16 to 15/07/16
CHINA BREW & BEVERAGE, Shanghai – China from 11/10/16 to 14/10/16
MIAC, Lucca – Italy from 12/10/16 to 14/10/16
ALLPACK, Jakarta – Indonesia from 12/10/16 to 15/10/16
PACK EXPO INTERNATIONAL, Chicago – USA from 06/11/16 to 09/11/16
GULFOOD MANUFACTURING, Dubai – E.A.U from 07/11/16 to 09/11/16
BRAU BEVIALE, Nuremberg – Germany from 08/11/16 to 10/11/16
EMBALLAGE, Paris – France from 14/11/16 to 17/11/16
INTERVITIS INTERFRUCTA HORTITECHNICA, Stuttgart – Germany from 27/11/16 to 30/11/16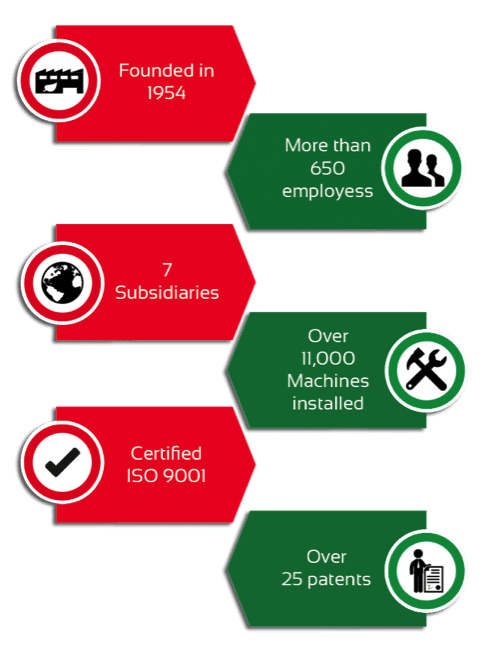 [youtube https://www.youtube.com/watch?v=ebTrP4aLVbg]