Top 5 in the category for Best technology innovation

This year the Italian company, created in 1954, celebrates its 60th anniversary as one of the main international leaders in the wrapping and packaging industry.
As a little gift to celebrate for reaching this milestone, OCME has received important recognition for its newest beverage innovation: Packetto™ solutions.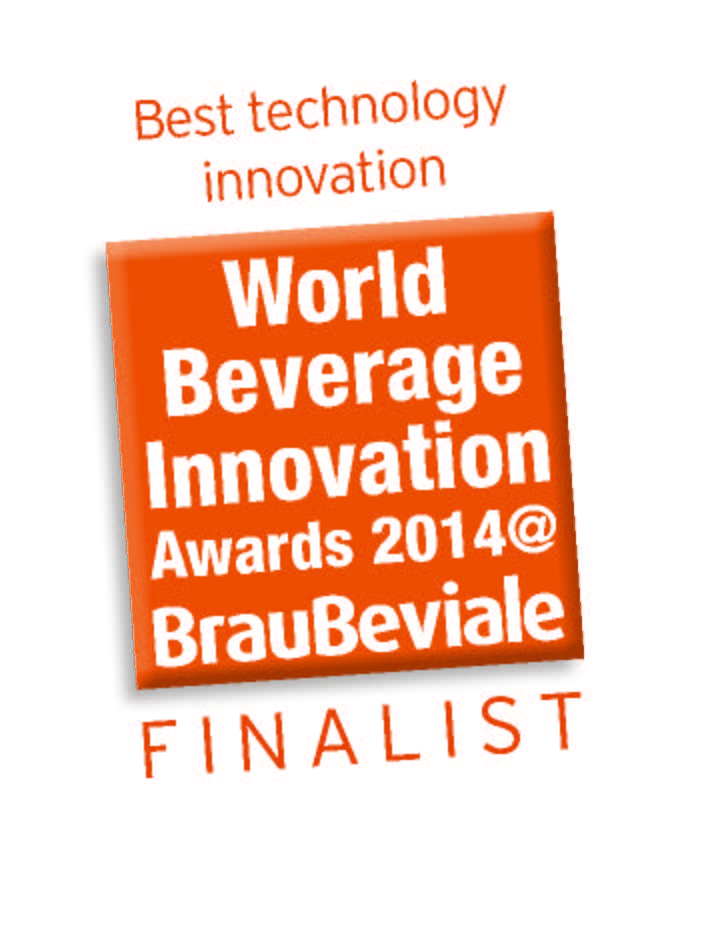 OCME was successfully placed amongst the top 5 finalists in the Best Technology Innovation's category, during the World Beverage Innovation Awards – a competition that comprised of 325 entries from 40 countries in over 26
categories.
It is an amazing achievement and a further indication of the added value that OCME's innovations can offer to all sectors, not just in beverage.
GIOVANNI DOMENICHINI, responsible for the Mechanical Part of OCME's research & development department, introduces Packetto™ solutions for us:
What prompted OCME to create a new line of products?
In a lively industry like packaging, it is important to be able to differentiate yourself from the main competitors. A way to achieve this is to provide a product which is uniquely associated with our OCME brand. Only this way can we
introduce ourselves to our customers with a new solution, one that no one else can provide at this time. In a wider perspective, we can therefore see this new solution not as a new product in an already existing market, but as the creation of a new market for a range of innovation products.
What was the starting idea that actually gave birth to the new products?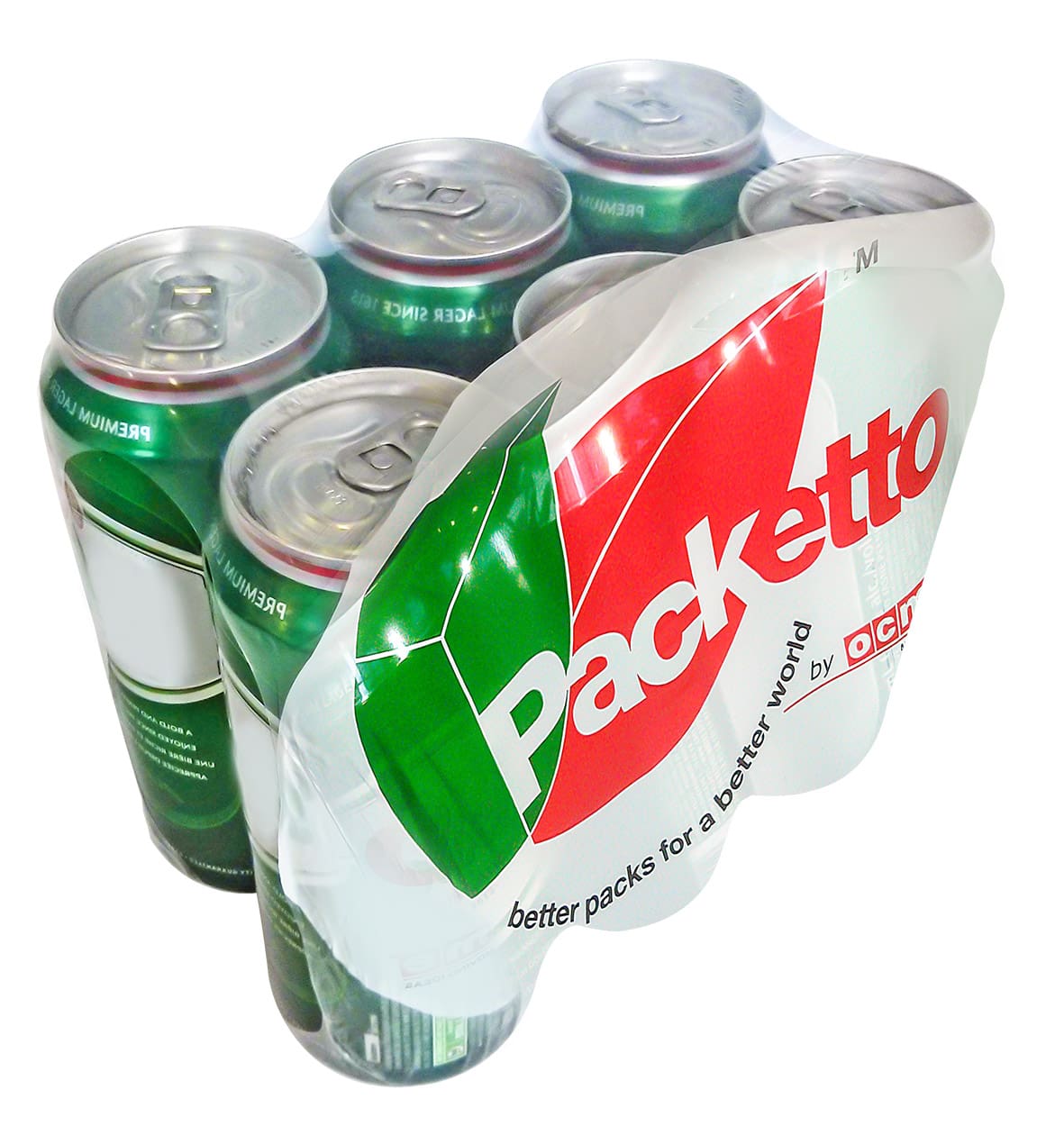 Many of our clients have the dream to find a system that would eliminate all the wrinkles, and the overlap of film on the shoulders of bundles – even ones with intricate graphics. This has been made possible by Packetto™ Smart. It stretches to the maximum for a tight fit film over the bundle. Large companies seeking to push the brand/packaging idea have the challenge to produce quality bundles, with a ratio between quality and cost of packaging, something which is difficult to reach. We focused on two main goals: to improve the visual impact the bundle has on the final consumer without changing its prime use and, in view of an economy that points to the saving and reduction of waste, reduce the amount of raw materials used.
How can OCME promise to save its customers money?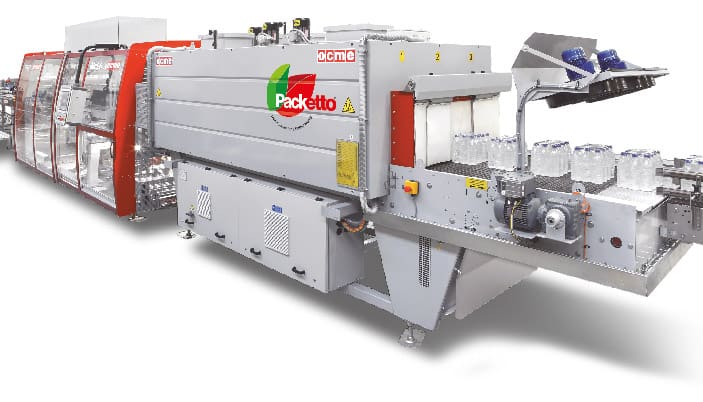 The general idea is, if we use less materials than we already do, for sure we can reduce the costs of materials. In our case, regarding our shrink-wrapping machines (our VEGA HT), this means decreasing the used quantity of thermo-retracting film – now from 10% to 30% less. A practical example: if for a 3×2 with 33cl bottles with standard film we need 11.32g of film, for the same format the Smart machine just needs 9.98g of film. Also at the end this saving is an advantage for the retail shops: actually, the Packetto™ solutions have less disposal costs.
Besides the savings, are there any other advantages with the Packetto solution?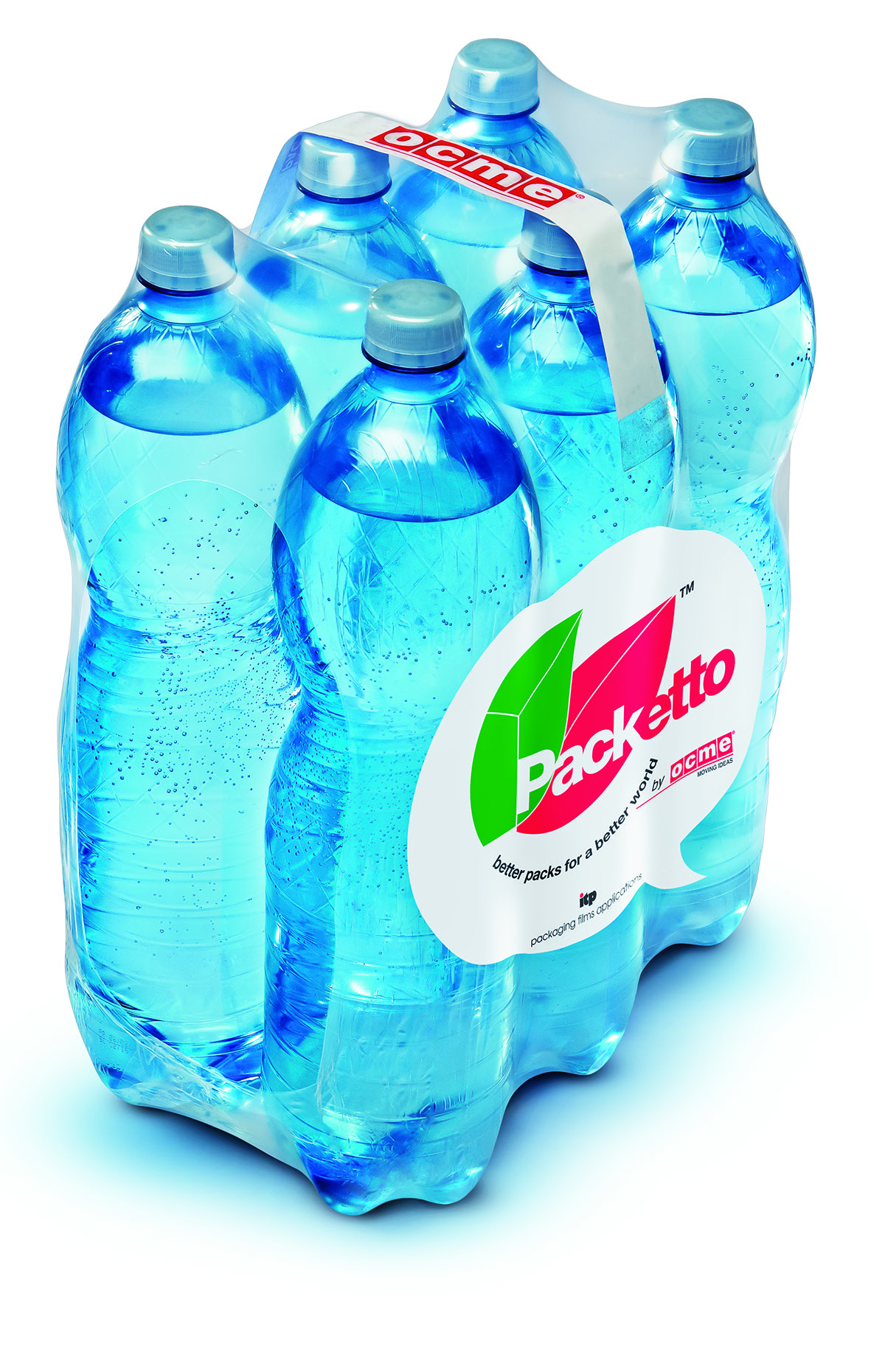 With the Packetto™ solution, not only we can reduce the cost of packaging, but we can also choose a film of "0 km". This means that is not necessary anymore to choose high quality suppliers to produce very good bundles, but we will obtain the same performances even choosing local suppliers. This is also a focal point to help local companies to survive. Importantly, despite the reduction of the structure of the packaging, the film remains unchanged for the consumer.
So with this in mind, we can assume that normal habits resume?
Yes, the bundle looks like it always did to the consumer: a series of products put together and wrapped by a thermo retracted film. This involves no alteration of the handling and storage of the products compared to what we are used to do now.
We are saying that, practically, OCME can obtain excellent bundles, diminishing the quantity of film and reducing its quality, but wouldn't that make it less resistant?
No, thanks to our patented Packetto™ Smart we can grant the same resistance and strength of a normal bundle. Not only that, we can also form a bundle with a better aesthetic impact.
The final consumer will perceive it as "better looking"?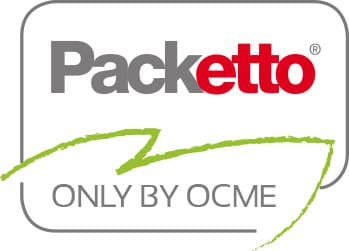 Yes, the consumer will see a bundle with easy reading writing: logos, promotions and other information. The accurate thermo-retraction of the film, without any overlapping or wrinkles, will give a sense of high quality to the packaging.
Besides Smart, you propose another Packetto™ solution: Party Packetto™. Could you introduce it to us?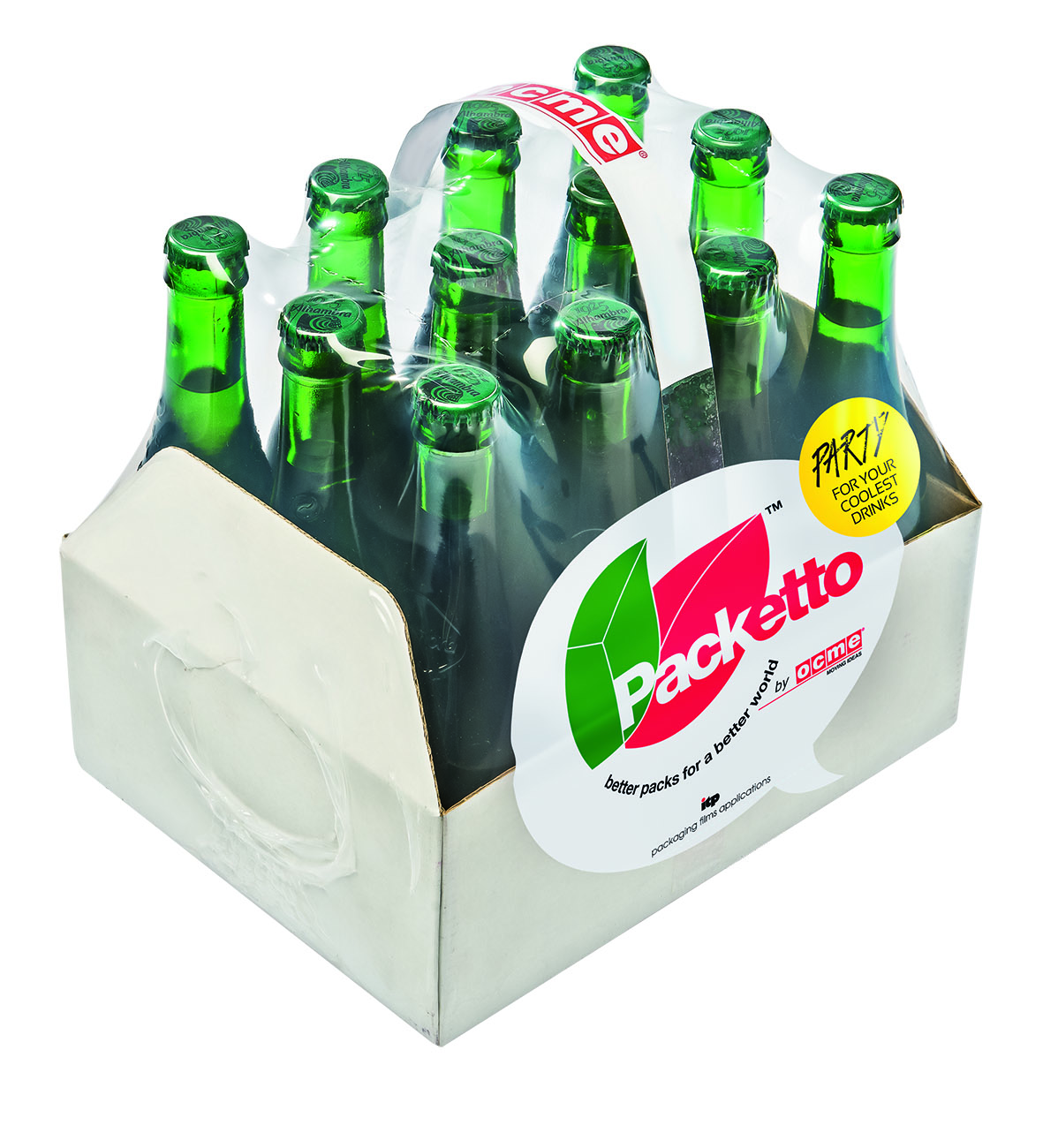 OCME's alternative packaging idea for fresh drinks and multipacks, Packetto™ Party, allows brands to convey the true spirit of a party. The cardboard box is made out of waterproof paper, to avoid any leaks, and a special design which allows it to keep products cool. It is a green solution as the packaging can also be recycled as an ice bucket, maintaining the drinks are kept cool. With a unique "friendly-sharing" design Packetto™ Party allows customers to chill their cans or bottles, enjoying their parties either at home or outdoor.
For marketers, Packetto™ Party is a perfect solution for an innovative marketing campaign or area tests:
Multi-brand promotion, product promotion, merchandising tool… Knowing the tray, the film and also the handle are fully customizable.
With Packetto™solutions and Packetto™Lab, OCME'S customers now have access to new tools and solutions that can upgrade their brand image, along with saving money and respecting the environment. That's what we're ever
more focusing on, at OCME