Automatic Powder Ingredients Weighing Systems
Lawer provides products, solutions and services to the industry to increase the reliability, safety and efficiency of dosing and dispensing operations for powders and liquids. Our core market position, that of a leading global product and solution provider together with our aim to set strong standards in all areas of our business, are both reflected in our company motto: "the true accuracy". We have almost 50 years' experience in supporting the industry to ensure the highest quality of the products. Our ability to do this is based on the "Italian Quality" of our products and services combined with our continuous investment in developing leading technology. As a result, more than 2500 customers put their trust in our company having allowed us to supply them with thousands of systems and solutions during our long history. Via our world-wide presence, we stand beside our customers around the globe and through the whole life cycle of our products, from the assistance with selecting the right equipment, design-in support, installation and after sale service. Lawer is a global automatic dosing and dispensing systems manufacturer based in BIELLA area, providing products for various industries as Textile – Cosmetics – Painting/Coating – Food – Plastic – Rubber.
Quality and Excellence expressed since the preliminary analysis to the commissioning of the equipment, to ensure safe and automated systems operated by high-class software, able to adapt themselves to the changing needs of manufacturing companies.
The true Accuracy  it is in every small detail that is measured the great value of a Company. Lawer has made a hallmark of accuracy. In research, in the production cycle, in the technical support, every minimum detail is evaluated by the stricter controls.
Service via our world-wide presence, we stand beside our customers around the globe from assistance for selecting the right equipment up to the best after sale support.
Engineering Support 
• consultancy assistance for the optimal selection of the right system and the most innovative technical solutions
• desing.in support for integrating our products and solutions into your production line
• customisation to suit your individual needs.
After sale service and assistance
• Flexibility, professionalism, capillarity of the international network with 45 highly qualified Agents.
• Ability to analyse, identify, translate the client's needs in a personalized project. Short time in the projecting, manufacture and installation of the systems. A timeliness after-sales service, able to respond to every request and problem-solving, with qualified technicians, 4 Service Centres, a Web on-line remote assistance. Support services program designed to optimize the interventions and reduce costs.
Innovation
We strongly invest in developing leading technology and new products. We encourage and facilitate a company culture of systematic and sustainable creativity and innovation.
Product portfolio 
• Automatic Powder Dosing Systems with:
– single scale technology
– double scale technology
– multi scale technology
CONCEPT : Automatic Powder Ingredients Weighing Systems
The different models of UNICA have been designed and patented to organize production in an innovative way by automatically weighing the powder ingredient components of recipes and batches in different processes of the food preparation industry. The ingredients are stored in stainless steel silos and the products are dosed using stainless steel screws. The ingredients are dosed into buckets, either manually or automatically placed on the weighing trolley which has an electronic scale. The weighing trolley automatically positions the bucket under the silo from which the ingredients are to be dosed. The management software allows collects all information about the operation reports and statistics. The pc can be interfaced with external systems to export the data.
ADVANTAGES and BENEFITS   
1. ACCURACY
2. REPEATABILITY
3. TRACEABILITY
4. SECURITY
5. EFFICENCY
6. SAVING
7. KNOW-HOW PROTECTION
for application in small-medium size laboratory we offer differents models of UNICA systems.
UNICA TWIN 
•100 L. capacity silos
• single or double scale
• 12-24 or 36 silos configuration
• scale 30 kg capacity, 0.1 gr resolution
• loading operation by gravity from a rear platform
• manual or automatic bucket loading/unloading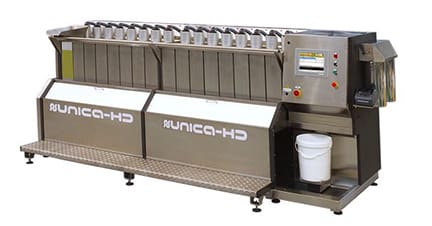 UNICA HD 
• 50 L capacity silos
• single scale
• 8-16 or 24 silos configuration
• scale 30 kg capacity, 1 gr resolution
• loading operation by gravity from a front platform
• manual or automatic bucket loading/unloading
UNICA MD – SD
• 18-36 L capacity silos on MD, 12-24 L capacity silos on SD
• single scale
• max 13 small silos positions
• scale 30 kg capacity, 1 gr resolution
• loading operation by gravity from the front side
• manual or automatic bucket loading/unloading
For application in industrial production Lawer provide systems with high productivity and efficiency.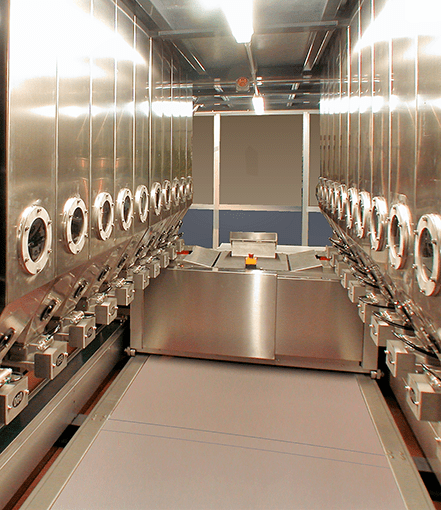 SUPERUNICA
Superunica is a fully automatic weighing system, allowing accurate safe and clean powder recipes preparation. The system consists of a number of independent storage silos, installed in line on a modular structure. A weighing trolley incorporating the electronic scale is automatically transported to the correct silo position. Each module can accommodate silos with different capacities (300, 150, 100 and 50 L) which are loaded by gravity or by means of a vacuum system. The bucket loading / unloading process takes place automatically and each bucket is identified by an ID-TAG system. An efficient suction / filtering device guarantees the maximum safety of operation and a clean working environment. The system operates by means of dedicated Lawer Software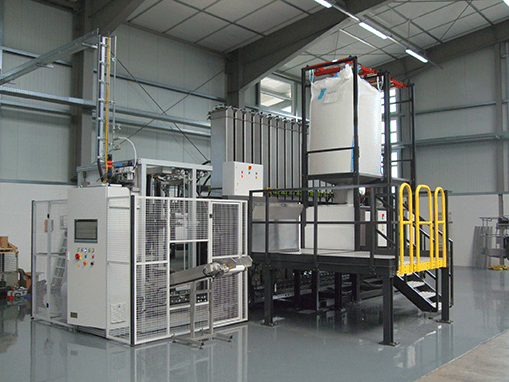 SUPERSINCRO
Supersincro allows precise and safe automatic dosing operations of the ingredients required for the food industry preparations in automatic thermoformed bags consisting of tubular films. The modular configuration is based on the number of products used, and the physical characteristics and the packaging used. At each cycle the package container is placed on a moving tray and transported on a U route placing the package under the different dosing units. When the container is in the correct position for the product, the scale lifts up the container and starts the dosing procedure. At the end of the loop the bags are closed and placed automatically in boxes or pallets.
www.lawerunica.com