[twitter-follow screen_name='itfoodonline']
Tweet
Tweet #Extrusion and blow-moulding
For info please contact +39 0362 244182, or mail to info@itfoodonline.com.

TECHNE GRAHAM PACKAGING COMPANY
Extrusion and blow-moulding for food products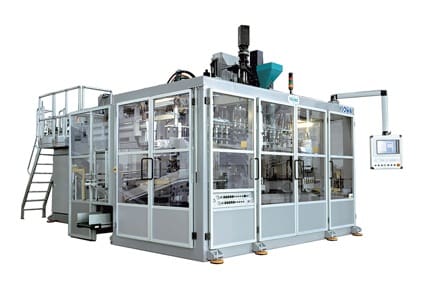 Graham Packaging Corporation is well know as one of the biggest converter in dairy and food products, with more than one hundred plants worldwide, 20 billions bottles produced every year and a turnover of 3 billion Euro. The acquisition of Techne EBM machines manufacturer in 2011 has joined the experience, technical know-how and excellence of two of the major companies on the market with fruitful results.

TECHNE is a consolidated partner of all main dairy companies all over the world. One of the application that made these collaborations a success is the aseptic blowing technology, with the first unit launched in Italy in 1992. Since then, a lot of complete lines have been supplied and the process is more than reliable and consolidated. It consists of a sophisticated implant which filters the blowing air and sterilize the complete pipe circuit, using only steam agent.
The main advantage of this technology is the complete absence of any chemical agent used during the process and therefore any eventual residual of liquid into the bottle (azote peroxide) and as a consequence, it eliminates the risk of having some taste alteration of the final product after the filling process.
The bottle coming out from the machine is perfectly sealed and it is opened only at the internal of the aseptic filling machine, after it has been sterilized on the outside part and just before the filling process.
Last generation aseptic full electric machines are jewels of technology, with 3 or 6 layers extrusion heads and capability to produce 1L UHT milk bottles up to 9.000 units per hour.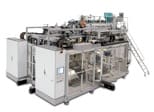 TECHNE ADV-700 combines high production to high technology. Its presence on the market since 2007 makes it one of the most reliable and advanced model available.
On top of this, full electric systems offer great advantages in terms of electric consumption and ordinary maintenance.
TECHNE also offers a unique solution for customer who require low-medium production capacity with an integrated blow-fill system. This machine is currently the only "combi" solution on the market regarding HDPE containers production.
FINANCIAL ADVANTAGES
Overall investment 15% lower than a standard packaging solution with storage, unscramble and conveyors;
Absence of working capital invested in bottles stored waiting to be filled;
Workmanship 50% less than a standard solution
Overall maintenance reduced by 70%, due to wide utilization of mechatronic solutions.
TECHNICAL ADVANTAGES
CP/CPK ≥ 1,3 that guarantees an extremely good result in terms of product quality;
The bottles filling process with a weight control also at a quality of CP/CPK ≥ 1,3 will result in product saving;
Possibility to include IML (In Mould Labelling);
Possibility to include vision system to assure a good quality, and a good appearance verified bottle;
Remote technical service assistance (24/7);
The concept to produce 24 hours a day for full year will reduce the daily start up waste, reducing the downtime percentage for the overall line efficiency;
The flexibility of the unit will allow to changeover from different bottles size and from different products to be filled in a very short time, and the line re-start will be supported by a sophisticated product management software that facilitates the line tuning;
The line safety factor will increase over 50% due to less equipment (multiple risk concept) and process control linked between all units (immediate line stops).
LOGISTIC ADVANTAGES
Production area reduced by 50% if related to standard solution with empty bottles storage and handling to the filler;
All activity related to bottles storage and temporary packaging will be eliminated;
All quality control activity for bottles stored will be eliminated;
The warehouse of ended product will be reduced significantly in case of 24 hours/day production
All quality control activity for ended products will be significantly reduced, due to the line self-control;
The plant safety factory will increase for the absence of conveyors to silo, forklifts for empty bottles transportation and trucks downloading.
APPLICATIONS
Suitable for food (dairy products, sauces, fruit juices) refrigerated pasteurized and ESL;
Suitable for any industrial applications (personal care, lubricants and house-hold chemicals);
Capable of moulding, filling and capping bottles (mono or multi-layer) from 60 ml to 5 lt.