Storing liquids, mixing liquids, weighing, measuring, dosing liquids, heating and cooling liquids, vacuum or pressure, transferring liquids is our speciality.
Albrigi Tecnologie can define itself as a world leader in the production of stainless steel plants for the food, bionano technologies and oil production.
For years Albrigi Tecnologie has been studying, researching and experimenting new solutions with the main objective of producing complete plants with all the technologies for transferring and processing liquids on a turn-key basis up to supplying process tanks of the highest quality in order to offer its customers services and technologies aimed at saving money, reducing costs, time, pollution and inconveniences, as well as increasing production and above all helping its customers to obtain a prestigious product of the highest quality.
Following the evolution of the market and the production needs, Albrigi creates both outdoor and indoor plants for the storage and mixing of food liquids in compliance with the safety regulations for those who use them, therefore the HACCP, FDA, PED, ATEX, ANTISISMICI regulations are the fundamental rules that dictate the basic requirements of Albrigi Tecnologie tanks.
All systems are complete with pumps, piping, weight and level sensors, liter counters, manual and pneumatic valves, saturation with inert gas, nitrogen, CO2, argon, high performance dedicated electrical control panels, an indispensable tool to operate any P.C. system and PLC for the management of transfer processes that operate in both manual and automatic mode with remote control process, managed by customised programs with algorithms reducing manpower by 70%.
A wide range of systems allows to condition new and existing tanks: with cavities, heat exchangers, thermoplates, pipe insulation, thermal power stations, steam and thermal oil generators.
Albrigi steam generators can be used with low, medium and high pressure; their excellent performance is the result of a design and construction conceived to ensure maximum reliability and durability. They meet the requirements, even high ones, of medium and large plants and guarantee a considerable energy saving.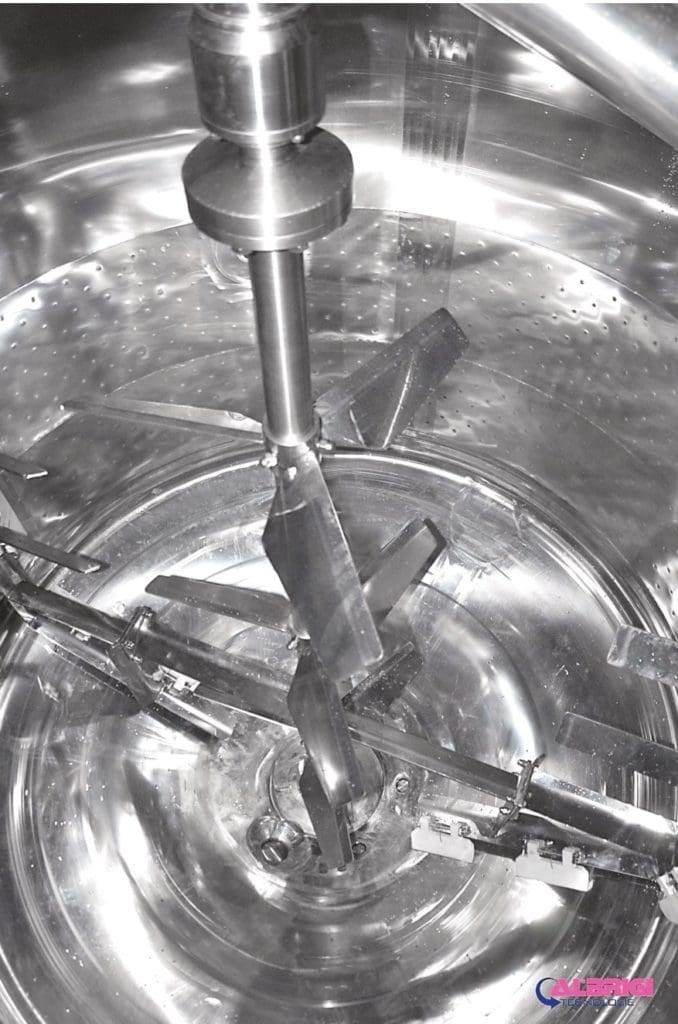 Washing is a very important phase in any sector, in order to prepare all equipment and plants for the processes for which they are designed.
Albrigi Tecnologie is specialized in the study and application of manual and automatic fixed washing plants completely programmable, managed by PLC, with customizable software and self-testing systems of the process up to the complete sanitization and sterilization in every internal or external point, always respecting the environment and reducing pollution by 80%.
Albrigi: ingenuity, style and technology at the service of the food industry.