The IFT plant is composite of a series of machinery and accessories needed for tomato pulp production. The raw tomatoes go to first step of selection, in this phase the product is sorted by shape with IFT SIZER machine, the small or crushed tomatoes go in the chopper hopper. The big tomatoes go to second step of selection, in this phase the product is sorted by color with an optical sorter, the green or black tomatoes go in the chopper hopper.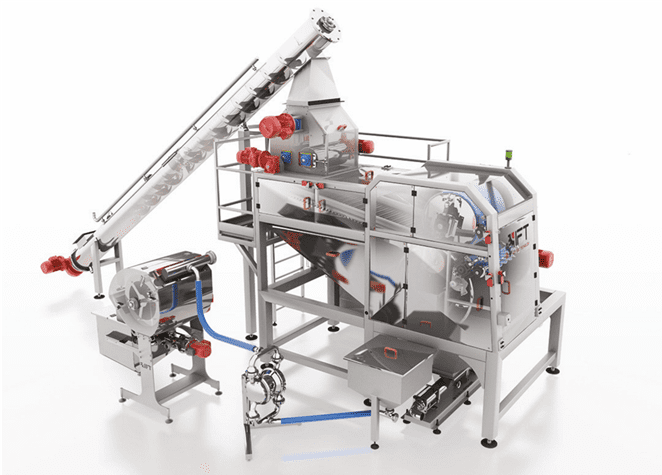 The good tomatoes go in a washing tank and then at pulp line. A cups elevator divides the tomatoes from water and uploads the sorting table. In this section the operator controls the product and takes out defective tomatoes.
The good product goes in IFT POLPATRICE, here is the extrusion of the heart of the tomato: the pulp. The waste is composite of the peels, seeds and internal liquid and they are conveyed in the hopper and they are pumped by a volumetric pump to the juice line.
The diced pulp goes in a small hopper where a volumetric pump convey it at IFT MIXFOOD system. The IFT DRAINER divides the solid pieces from liquids, a adjustable system retrieves a part of liquids and put it in the mix tank together of the pulp, the waste product is conveyed to the juice line. Is possible to control the drained weight, of the final product, with setting of the drainer or/and with setting the recipe of pulp and tomato juice.
The tomato cubes and the tomato juice concentrate are mixed in the mix tank IFT MIXFOOD, the system control allows the setting of the °Brix of the final product with addition of the juice concentrate. The finished product goes to a magnetic filter and then an electronic metal detector for a safety control, it is ready to the next phases. Energy saving is guaranteed by the use of inverters for all motors.
The heart of the line: the IFT POLPATRICE machine
This machine transforms the raw unpeeled tomato in pulp, using the extrusion method.
Tomato pulper is made of the following parts:
– heating screw (conveying and warming of the product);
– compression and cut group (slicing and light compression);
– draining conveyor (separation of liquids, seeds and skins);
– extrusion group (pulp production and separation of the tomato skins);
– mono pump (to convey the waste product);
– volumetric pump (to convey the good product); – electrical panel.
The whole structure is made of AISI 304 steel stainless and all parts of the machine in contact with tomato are made of material for food according to the EU laws. All the movement parts are protected by have got a key block and micro.
All discards production are conveyed to a evaporator line by a pump. A control panel allows the automatic operation of motors following a logical sequential; while it's also possible to operate each single motor by pressing a button into the touch screen. All the organs of movement are drived by inverters. You can see a sample movie at link: https://youtu.be/TTjXei-5MgA
Technical Features:
Production with unpeeled tomato:
15 ton/h (raw tomatoes) Yield: with 6mm sieve :
60% with 8mm sieve : 65% with 10mm sieve :
70% Production with peeled tomato:
15- 22 ton/h (raw tomatoes) Yield:
with 6mm sieve :
70% (15 ton/h) with 8mm sieve :
70% (15 ton/h) with 10mm sieve :
75% (15 ton/h) with 12mm sieve :
78% (18 ton/h) with 14mm sieve :
83% (20 ton/h) with 16mm sieve : 90% (22 ton/h)
Energy Consumption:
Power supply: 16 kW – 400V – 50Hz – 3P
Steam supply: 400 kg/h at 6 bar
Air supply : 2,5 Nsm/min