Food waste is an ethical problem that countries are increasingly trying to address. Russia is no exception; here the food market and, in particular, the bakery industry, is committed to promoting food saving strategies. For about two years now, mass retailers in the Commonwealth of Independent States (CIS) have been striving to reduce their food waste, particularly bread and pastry products.
Supermarkets, shops, bars, restaurants and hotels are making decidedly more use of frozen pastries (croissants, éclairs and pastries in general) and of pre-cooked, frozen bread. These products can be cooked directly in store, enabling shop keepers to respond promptly to consumer demand while minimizing surplus (and therefore waste).
In the Western countries, frozen products have become extremely widespread, with pre-cooked, frozen bread covering more than 70% of demand. Moreover, in these countries, products that are frozen and cooked in store – when handled properly – are difficult to distinguish from fresh products.
However, in order to offer the level of quality required by producers, and even more so by consumers, it is important to be able to rely on the advanced technology and experience of the entire production chain. It is only with a highly efficient processes that we can hope to achieve pre-cooked, frozen bread that looks like fresh bread and retains all its organoleptic characteristics.
"It is not enough to build high-quality plants," says Susanna Baessato, CIS Area Manager at Tecnopool. "Before building the plant it is important to acquire a thorough understanding of the process. Only in this way can we hope to intercept and solve any problems that should arise." In this respect, Research and Development plays a key role. "We don't merely sell spiral conveyor belts in a cell; we sell complete processes comprehensive of heat treatment, which means precise temperatures, well-devised air flows inside the cell, and perfect thermal insulation.
Our long-standing experience has taught us to build efficient machines; but even more so, it has allowed us to acquire extensive expertise in food heat treatment processes, making us a benchmark for our customers today," says Ms Baessato. "Centring the design phase around a study of the process is necessary and, indeed, essential in order to guarantee optimal results in terms of the quality and temperature of food products."
Tecnopool has been producing food processing systems, such as freezing, cooling, proofing, cooking and pasteurization plants, for 40 years. Over this period, its understanding of the market and the evolution of its production processes have led the company to strengthen its research and development to develop increasingly innovative and efficient technological solutions.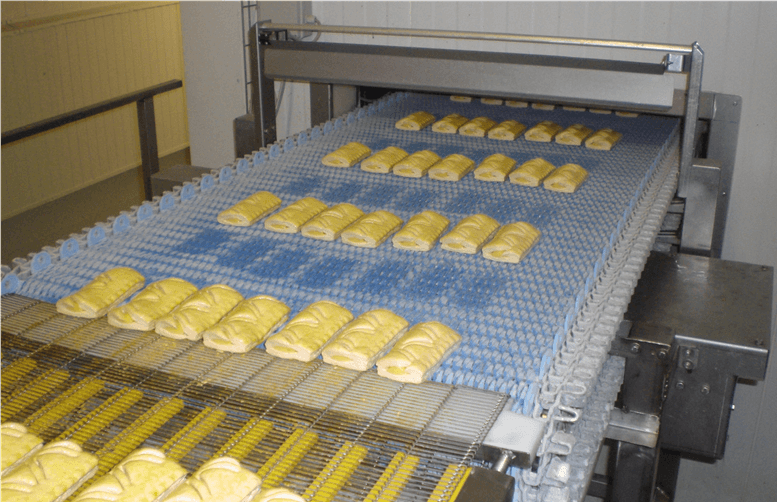 "Our spirals, driven by an external drive, were a real breakthrough in the spiral conveyor belt industry, delivering high-performing solutions capable of satisfying every space requirement," Ms Baessato points out. "Our spiral has earned us a significant slice of the market, with customers benefiting from entirely personalized systems that – compared to drum spiral conveyors – ensure lower consumption, easier and faster maintenance, improved plant hygiene, and – above all – no wear and tear of metal parts. These are very important aspects offering significant investment savings."
Spiral systems are increasingly being used by producers because they offer a huge reduction in plant footprint, while maintaining process linearity. "To us, CIS countries are one of the most important markets. As Tecnopool, we hold long standing relationships with local partners and we have established offices in the area, shared with TP Food Group company Gostol. In the CIS, we have to deal with both foreign and local competitors.
For many customers, having local suppliers means saving on transport and customs clearance costs," says Ms Baessato, "but the situation changes when problems occur resulting from incorrect heat treatment process parameters or from using low quality materials. This is where the know-how of Tecnopool, with its long-standing experience and advanced understanding of market needs, comes into play.
Customers often return to us after having had a negative experience; they realise that we can offer them the peace of mind of long-lasting, highly efficient systems capable of working 24/7. Don't forget that every downtime disrupts production, therefore resulting in significant lost earnings for the producer".
Tecnopool, part of TP Food Group, has long been synonymous with advanced spiral system technology, from its first conveyor belt, the "Anaconda", developed in 1980, through to the patented "TW", which many have tried to copy and which, now at its 5th generation, has been continuously improved over the years.