Under the brand name SaniForce®2.0, Graco offers a complete portfolio of sanitary pumps and unloading equipment for the food, beverage and personal care industries.
Graco's SaniForce®2.0 range is designed to handle the most difficult materials quickly and safely. It includes air- and electric-operated double diaphragm pumps, electric-operated drum pumps, and piston transfer pumps. Beside these stand-alone pumps, it also includes drum and bin unloaders.
The SaniForce®2.0 line is ideal for a multitude of applications in various industries such as:
Food: Low to high viscosity ingredients including juices and fl­avored drinks, salad dressings & condiments, sauces, edible oils, snack food fl­avorings, frostings, beer & wine, caramels & chocolate syrups, jams & fruit fillings, tomato paste, peanut butter, and more.
Personal care: Lotions & creams, cosmetics, and high care food.
Dairy: Yogurt, cottage cheese, ice cream ingredients.
Meat and poultry.
Pharma: Medical creams & lotions, organic reagents, blood products, bio pharmaceuticals, alcohol and solvent transfer.
Food Grade Air Operated Double Diaphragm Pumps
Designed for rigorous, continuous use with quick knockdown design for easy cleanability and sanitation, SaniForce® FG pumps are ideal for applications requiring high flow rates and portability. A three-way pilot valve ensures non-stick operation, and all fluid contact areas are FDA compliant and meet CFR Title 21.
High Sanitation Pumps
SaniForce® HS pumps are designed to meet the most stringent sanitation requirements. Mounted on a floor stand and equipped with a leak detector, these pumps can be rotated 360° to drain any excess material. Ideal for applications such as personal care and high care food transfer.
Large Particle Pumps
These pumps are built to handle solids up to 9.65 cm in diameter without crushing or damaging the material. The durable pump construction handles particulates and abrasives without damage to the pump. And thanks to fewer parts, they allow accelerated cleaning, sanitizing and minimal downtime.
SaniForce® 3A and Pharmaceutical Pumps
Graco's 3A approved and pharmaceutical pumps feature a single piece manifold that reduces clamps and areas for food/bacteria to hide, for easier cleaning and enhanced safety. Few moving parts increase their durability and reduce repair time. They come installed with leak sensors, while a control box is optional. The pharmaceutical pumps also feature a 20 Ra electropolished finish.
SaniForce®2.0 Electric-Operated Double Diaphragm Pumps
Each model of the SaniForce®2.0 pump range is offered in both air- and electric-operated versions, where available. The SaniForce® EODD pumps are designed to eliminate unnecessary pump failures in the most demanding applications. They improve a facility's energy efficiency and create a quieter and cleaner work environment for employees. Patent pending technology allows the pumps to stall under pressure, preventing pump failures from clogging or closing lines. Their energy-efficient electric drive reduces energy consumption up to 5x compared to traditional air-operated diaphragm pumps, while their seal-less diaphragm pump design eliminates leaking and failures due to run-dry pump conditions. Moreover, Graco has over-molded the fluid side diaphragm plate with PTFE on the fluid side and EPDM on the air side. This improves wear, durability and cleanability, making these pumps one of the easiest to clean in the market.
SaniForce® Piston Pumps
Graco's powerful line of piston pumps move extremely difficult materials that other pumps cannot. They have fluid pressures up to 82.7 bar and are ideal for low to medium viscosity materials. The air motor improves serviceability, increases efficiency and offers a lower cost of ownership. The quick knockdown design allows fast, easy cleaning, and smooth maneuverability around a plant. They are manufactured with corrosion-resistant stainless steel for long-lasting durability.
SaniForce® Electrical Drum Pumps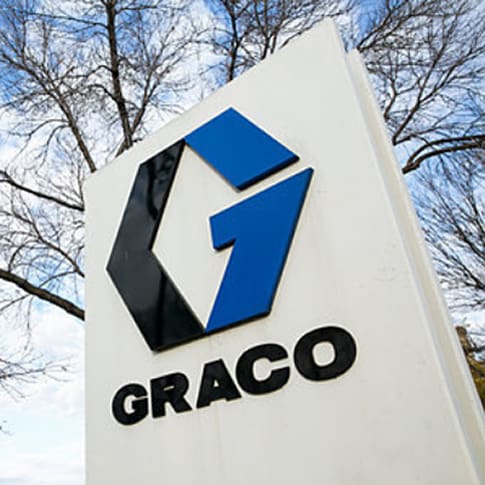 Reduce downtime with Graco's quick knockdown SaniForce® centrifugal and progressive cavity drum pumps that feature easy Tri-Clamp connections and a simple design. They are designed for operational flexibility throughout a facility – simply plug in the pump and start transferring the material. Their lightweight design allows operators to move pumps quickly and smoothly between drums to increase output.
SaniForce® Elevator
Graco has the ideal solution for manual and often unsafe unloading of containers. The SaniForce® Elevator is ideal for companies that currently unload fewer than two containers per hour by either scooping or dumping. It's designed to lower pumps into and lift pumps out of drums, bins, and totes. Flow rates range from 5.7 to 53 lpm (1.5 to 14 gpm), depending on which SaniForce® piston pump is used.
Pail Unloader
Graco's new Pail Unloader is specially designed to unload medium to high viscous materials out of 20 liter pails (buckets). It's thus a safer alternative to the old-fashioned way of lifting and dumping. Once the pail is put in place, the plate with wiper seal is lowered into the pail, hermetically sealing the bucket. When the pumping starts, the product is moved out of the pail and the plate travels down, scraping product from the sides. After the pail is emptied, the plate and pump can be lifted out by simply switching a button.
When using the pail unloader, the product is hermetically sealed and guided from beginning to end, which prevents any external contamination. The 6:1 priming piston pump design ensures an evacuation rate up to 99% and the portable, stainless steel construction allows easy maintenance and an overall improved ergonomic work environment.
It's designed for easy operation, cleaning and maintenance. Disassembly is quick; its Tri-Clamp connection makes it possible to easily disconnect the pump lower for cleaning and maintenance purposes. The wiper seals are available in PTFE and Buna, giving a solution for almost all food, beverage and personal care applications. What's more, this small, lightweight unit is equipped with wheels to make it easy to move around the factory.
Drum Unloaders
Graco's new Drum Unloaders are ideal to unload medium to high viscous materials out of 200 liter drums. The range offers an extensive selection of both diaphragm and piston pump options, ensuring a solution for every application, from low to very high viscous products. An evacuation rate of up to 99% is achievable. The drum unloaders are designed with cleanliness in mind. The sloped control top makes cleaning easier. Instead of physical labels, the use of laser etched graphics avoids any unwanted product contamination. The follower plate and inflatable seal hermetically seal the drum, keeping the product covered during transfer.
A wide range of control options is available, from exposed manual controls to fully automated LED control systems, via a touchscreen control panel. Capabilities include a fully automated unloading sequence; ingredient/recipe storage; pump prime feature; batch output control; and ram jog feature.
The AODD drum unloader should be used when the viscosity is between 35,000 and 100,000 cps; when large particles (e.g. diced tomatoes) need to be transferred; when high flow rates are required (>50 liters per minute); or when the material needs to be protected from the atmosphere.
Use a piston pump drum unloader when the viscosity is between 35,000 and 500,000 cps; when material needs to be pumped for distances greater than 10 meters, has many elbows or has a small diameter line that causes too much pressure drop; or when the material needs to be protected from the atmosphere. Use a priming piston when viscosity exceeds 250,000 cps.
Bin Evacuation System
Save time and money in your facility by unloading materials efficiently from 1100-liter (300-gallon) "bag-in-bin" containers, eliminating manual scooping or bin dumping. Once the bin is placed below the BES, the ram plate and pump are lowered into the bin, just above the product. The seal is then inflated to hermetically seal the bin. When pumping starts, the product is moved out of the bin and the plate with inflatable seal travels down, scraping product from the sides of the drum. After the drum is emptied, the plate and pump can be lifted out by simply switching a button.
The SaniForce Bin unloader is designed with cleanliness and safety in mind. The sanitary flange clamps offer an easy and fast cleaning solution. Safety latches enable you to lock the follower plate when you are not using the unit, preventing any possible injuries when working under the plate or when changing bins.
This system is ideal to unload medium to high viscous materials out of 1000-liter bins. It's available in piston pump and AODD pump design. Use a piston pump BES unit when the material comes in a tote or bin; when the viscosity is too high for an AODD pump; when the material needs to be pumped long distances; or when too much pressure loss exists in the line.
Use the AODD BES unit when the material comes in a tote or bin; when high flow rates are required; when the number of drums used daily exceeds 15; or when the viscosity is under 100,000 cps and contains large particles (a flapper valve may be required).
The AODD pumps used on the BES are available in both ball and flapper check design. The flapper check design provides a delicate, shear-sensitive operation and gently transfers products. This low-shear operation ensures product quality is not damaged or compromised, resulting in the proper transfer of critical high-value fluids and materials.
The unit comes with a wide range of control options, from exposed manual controls to fully automated LED control systems.
Hydra-Clean® Pressure Washer
Graco has thought of everything for sanitary applications. To clean and sanitize food, beverage and pharmaceutical processing facilities, the Hydra-Clean® air-driven or hydraulic pressure washers can be used with hot or cold water, detergents or strong chemical solutions.
Further information
To discover more about Graco's full portfolio of sanitary equipment, check out the Graco webpage www.graco.com/saniforceline or contact Bart Clerx at bart.clerx@graco.com.