For Grisi Hermanos, Mexican company leader in health, beauty and personal hygiene products, there is a direct relationship between well-being and nature, a relationship that requires continuous investments in new technologies to promote a sustainable development path capable of providing consumers with high-quality and affordable products.
Among the latest investments in this field, Grisi Hermanos installed an SMI wrap-around case packer from the LWP 30 ERGON range, that, in the plant of the City of Mexico packs containers of body cream under the brand Hinds.
Quality awarded over time
Scientific research, market analysis and investments in cutting-edge technologies are indispensable activities for this Mexican company, whose success is demonstrated by several awards and acknowledgments received over more than 150 years of activity.
This is also thanks to the teachings of the founder José Grisi, who, in 1863 said: "being natural is a difficult challenge, made up of personal efforts for the benefit of everyone".
Efficient and flexible plants
Grisi Hermanos cares about consumers' well-being and beauty and therefore pays a lot of attention to the quality of the products, to the packaging and to the packaging process. Every year the company introduces new products, reformulates the existing ones with the addition of new ingredients and fragrances, proposes new containers, new pack formats, etc. All this requires very flexible production plants, that easily adapt to the changes imposed by final consumers' tastes and by the increasingly innovative packaging solutions connected to marketing strategies.
The role of packaging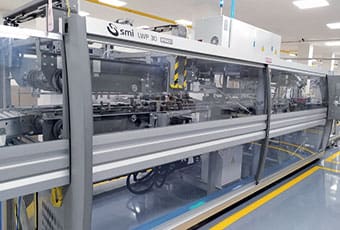 The personal care industry is growing worldwide and is characterized by a high competition between local and international manufacturers, who focus on product innovation and on an ever expanding offer in terms of types of primary and secondary packaging, in order to increase their own market share.
SMI produces packers that quickly adapt to the new pack formats required and offers original and innovative packaging solutions, custom-designed according to the producer's logistic and marketing requirements.
Main advantages of SMI line solutions
end-of-line packaging solution designed to meet the needs of versatility and efficiency
machine suitable for packing several types of containers, even with particular shapes (typical for detergent and personal care products)
the wrap-around packaging system forms the cardboard box and encloses the containers inside with the use of a single machine: the case packer
solution with a great quality/price ratio, compact and suitable for any logistic configuration of the production plant
wrap-around corrugated cardboard boxes are biodegradable, resistant to shocks and are the ideal solution to preserve the integrity and the quality of the products they contain during the entire production and distribution process
the wrap-around box is an excellent marketing tool, thanks to the wide possibilities of graphic customization that turn the pack into a valid promotional vehicle for the marketed product
the packs made with the wrap-around system are more stable
the cardboard blank is folded and wrapped around the products simultaneously with their grouping in the desired format, without making machine stops