New electro-pneumatic valves for filling carbonated products advantages
Filling is the most important phase in the bottling process, as quality, hygiene and preservation of the product features depend on this operation.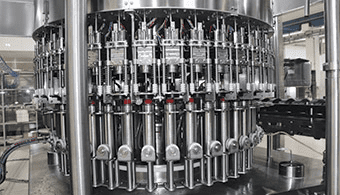 ENOBERG SRL has constantly been investing in the research and development of innovative, cutting-edge solutions capable of meeting the requirements of flexibility, reliability and ease of use of beverage manufacturers all over the world.
Energy saving and reduced production costs
The development of the new filling valve for HELC serie with electro-pneumatic control for the level filling of carbonated products stems from the need to provide bottlers with a flexible machine capable of meeting their requirements in terms of cost reduction and energy saving.
The new valves ensure the automatic adjustment of the levels between different formats, by means of direct interventions through HMI operator panel.
This is an extremely versatile solution with advantages in terms of plant management and maintenance.
All advantages of the new filling valve
the new valve allows to fill carbonated beverages and water at a higher temperature compared to the valve of the previous version, with a cost reduction for the product cooling
greater product stability, thanks to the pressurization channel separated by the decompression channel
self-levelling function that ensures a high filling precision
automatic adjustment of the levels between different formats that can be carried out directly on HMI panel
easily washable and small-sized product tank
vortex system integrated into the filling valve in order to deviate the filling flow on the bottle walls
possibility to process glass, PET and aluminium containers
simplified management and maintenance
available configurations up to 80 valves
If you want to have further information on the advantages offered by the monoblocs and on the other solutions supplied by Enoberg, we invite you to contact our sales department or to visit our website.