Surrounded by the pristine landscape of Lake Constance (Switzerland), Holderhof Produkte, food company leader in the production of fruit juices, turned to SMI for the supply of a new aseptic line for the production of high-quality drinks with a thousand therapeutic virtues.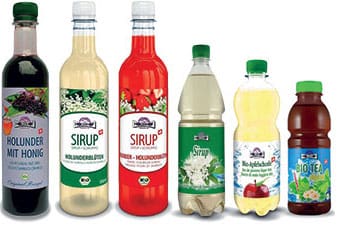 The 8,800 bottles/hour line has been designed according to the most rigorous measures to respect the environment.
The history of this company starts with the graduate thesis in agriculture of Christof Schenk about elderberry wine. The interest in this product led him to found Holderhof Produkte in 2000.
Today the company employs 25 people and, in addition to elderberry, cultivates currants, raspberries, herbs and berries and produces a wide range of products, including elderberry syrup, refreshing drinks, fresh juices, fruit wines and energy drinks.
The great attention paid to the surrounding environment and the desire to protect it from future contamination have influenced the company production choices and are key factors for success.
The quality of 100 % natural production results from the use of excellent, organic, raw materials, that undergo accurate controls, from the gathering to the production and distribution.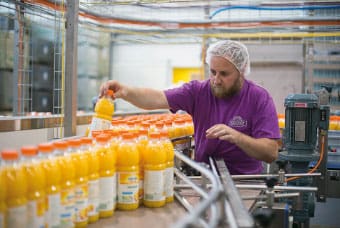 In order to meet the different consumers' tastes, the company has been developing and introducing new products, marketed under its own brand or for third parties in Switzerland and in the rest of the world.
The aseptic line solution supplied by SMI starts from Holderhof's need to have an extremely flexible plant to process the different products of its own range and have high-tech production systems, that preserve the surrounding natural environment.
The 8,800 bottles/hour line includes the EBS 4 ERGON rotary stretch-blow moulder for the production of 17 different bottles in PET with different capacities; the net weight filling and capping monobloc for liquid products; the LSK 30T ERGON shrink wrapper for manufacturing different types of packs in film only, tray only and tray+film; the palletizing automatic system from the APS 1550 P ERGON and SWM line supervisor.
Main advantages of SMI line solutions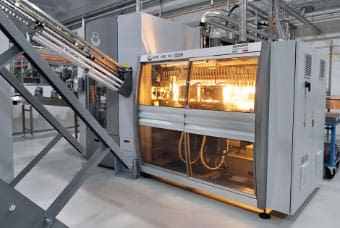 High flexibility to quickly switch from one bottle to another: Holderhof Produkte opted for SMI EBS E ERGON rotary technology because it offers the advantage of being more flexible in the production of several types of bottles with different capacities that require frequent format changeovers
 
Very flexible preform heating tunnel: it can process different types of PET or rPET preforms. In fact, the company is increasing its use of preforms made largely with recycled resin
 
The stretch-blow moulder adopts eco-friendly technologies, such as the double stage air recovery system, that ensures a considerable reduction in energy consumption and related costs
 
Filling with weight dosing technology: the ideal solution for filling sensitive products such as juices and syrups
 
High flexibility, both in the secondary packaging of the more than 35 formats processed by LSK 30T ERGON shrink wrapper and in the tertiary packaging performed by APS 1550 palletizer, that allows to quickly switch from one pack format to another and from one palletizing pattern to another
Reduced energy consumption and washing liquids during the system washing phases: a must for Holderhof Produkte AG, particularly demanding in adopting solutions that protect the surrounding environment
 
Easy and intuitive management and control of the production line, thanks to POSYC® HMI system suitable for the control of the line operation, product flow and conveyor speed
 
Continuous supervision of the bottling line, thanks to SWM supervision system, that ensures fast and efficient monitoring of the line operation even remotely via smartphone and tablet