India International Dairy Expo (IIDE) is back with the special edition from 13-15 April 2022 at Bombay Exhibition Center, Mumbai
Indian Dairy Association (IDA) West Zone to organize technical seminar for the dairy fraternity on 13 April 2022.
After hiatus of 3 years, it is a welcome news for the entire dairy industry that India International Dairy Expo (IIDE) is making a stronger comeback with encouraging response from the dairy fraternity. Lot of changes in the dairy technology are observed and more are anticipated post pandemic as the situation is coming to normalcy. Indian Dairy Association (IDA) West Zone is associated with IIDE and would be hosting a technical seminar on theme "Ideate. Innovate. Succeed".
The agenda will include topics like – New Technologies & Innovations in Dairy, Blockchain Technology & Drones for Dairy Industry, and Offerings by Dairy Research Institutes and Industry Requirements. Dairy industry is very much eager to witness this special edition and looking forward to solutions.
IIDE offers an ideal business platform to dairy industry solution providers for networking and display services and solutions first-hand in a LIVE environment alongside key decision makers from the dairy manufacturing and farming sectors.
At IIDE 2022, network with senior professionals and generate unlimited business opportunities in a safe business environment. Connect with the right buyers and learn key industry trends while staying ahead of your competition. Consumers are increasingly concerned about the quality, safety, and hygiene of food products, including dairy.
This is expected to boost the growth of the value-added dairy segment within India's organized dairy market. There is growing change in preference from loose products to packaged products. Categories like liquid milk, curd, paneer, and sweets have experienced this trend, which mainly benefits the organized sector.
Companies with a strong retail penetration have realized immediate benefits. However, companies with a commodity and business-to-business focus will desperately push toward consumer-focused in the coming years.
As one of the world's largest-volume dairy markets, India is fertile ground for Page | 2 the international brands. Product innovations are likely to help the acceleration of India's formal dairy market. This, in turn, should bring about favorable government policies and promote industry consolidation. Specialist agricultural bank Rabobank believes the time has come for global players to start investigating the market's potential.
The Trade Fair
In the purview of the growing dairy market in India and increasing requirements for the new technology, to provide a platform for networking, knowledge sharing and business growth Koelnmesse YA Tradefair Pvt. Ltd., an Indian subsidiary of Koelnmesse GmbH, Germany and Indian Dairy Association – West Zone are organising the special edition of India International Dairy Expo (IIDE) 2022. The current edition of the comprehensive dairy and dairy technology event is being organized from 13-15 April 2022 at Hall 1, Bombay Exhibition Centre, Mumbai, India.

India International Dairy Expo (IIDE) has become a brand to reckon with in the dairy and dairy technology exhibition and knowledge forum. It has gained the status of the landmark trade fair in the dairy fraternity for the dairy professionals not only in India but also in the neighboring countries spanning the canvas of dairy industry from veterinary, dairy farming and farm equipment's, plant & machinery, processing, ingredients, packaging equipment's, refrigeration, automations and logistics, milk & milk products and allied services.
The visitor's portfolio of IIDE include the Dairy Products Manufacturers, Co-operatives, Dairy Farms, Dairy Professionals, Scientists, Farmers, Government Agencies & Policy makers. We have received encouraging response from both exhibitors and visitors for the upcoming special edition of the show following the success year on year and being back in the physical format of the show after 3 years much stronger and better for the forthcoming edition.
Keeping the momentum of success, the special edition of IIDE 2022 has received a very good response from both national as well as international companies as participants, with exhibitors from United States, United Kingdom, France, Germany, Italy, Lithuania, Switzerland, Cyprus, and The Netherlands apart from India.
Leading suppliers of dairy farm technologies, processing & packaging technologies, cold chain & distribution solution suppliers have already confirmed their presence in the exhibition boosting the portfolio of brands across the segments in dairy industry.
Concurrent Seminar –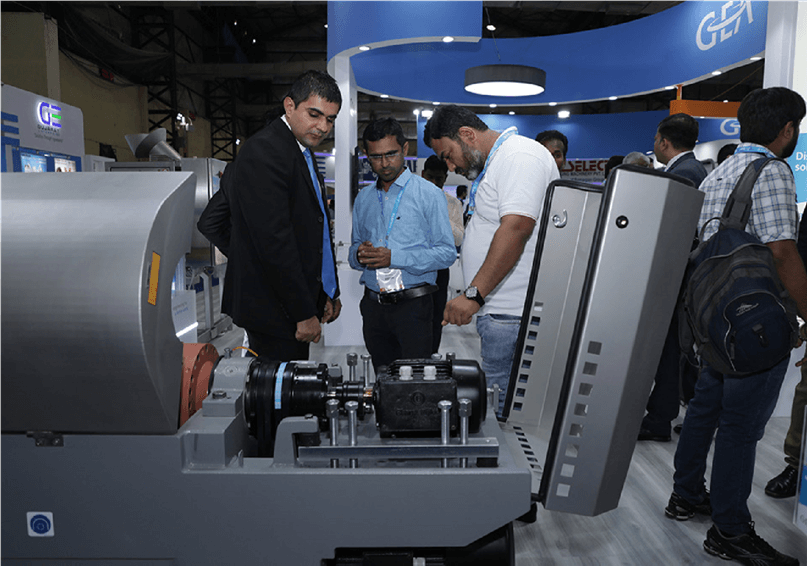 Indian Dairy Association (IDA), West Zone is hosting a technical seminar with theme – Ideate. Innovate. Succeed on the first day of the India International Dairy Show (IIDE) 13 April 2022. Panel discussions and sessions of this technical seminar will be addressed by top dairy and dairy technology professionals and will be attended by the notable names in the entire dairy fraternity including the leading technology suppliers, Dairy cooperatives, Professionals, Farmers,
Technocrats and others. Stalwarts from the dairy fraternity will attend the Page | 3 seminar including top professionals from IDA. This Seminar will offer an opportunity to all the dairy professionals to get acquainted with the latest ideas and innovations in milk processing, packaging, distribution, milk products, animal breeding, and nutrition.
Important topics would be discussed during the interactive panels like new technologies and innovations in dairy, block chain technology, and drones for the dairy industry to have the most updated knowledge dissemination.
Koelnmesse – industry trade fairs for the food technology sector:
Koelnmesse is an international leader in organizing trade fairs in the field of food and beverage processing. Anuga FoodTec and ProSweets Cologne are established, world-leading trade fairs, hosted in Cologne/Germany. In addition to the events at its Cologne headquarters, Koelnmesse also stages further food technology trade fairs with different sector specific areas of focus and content in key markets across the world, including India, Italy and Colombia.
These global activities enable Koelnmesse to offer its customers bespoke events and leading regional trade fairs in a variety of markets, thus creating the foundation for sustainable international business. Koelnmesse is also ideally positioned in the field of food and beverages with its leading international trade fairs Anuga and ISM and its global network of satellite events.
About the partner – Indian Dairy Association (IDA), West Zone
The Indian Dairy Association (IDA) was established in 1948 with the objective to create a platform for dairy professionals, scientists, farmers, equipment manufacturers and service providers in order to provide them an opportunity for dissemination of knowledge and ideas and to promote the interest of dairying at national and international level by organizing seminars, symposia and exhibitions on a wide range of topics catering to the needs of various streams of dairy industry.
IDA (WZ), with its activities spread over the states of Goa, Gujarat, Madhya Pradesh and Maharashtra is very active and responsive to the needs of the dairy industry of the region. It has been regularly organizing seminars, workshops and meetings keeping all the stake holders' updates about latest developments in the dairy industry.