Isolcell solutions are highly customized, reliable, and always at the top of the technology available today
Over 60 years of experience
Since 1958 Isolcell has been designing and manufacturing plants that exploit controlled and generated atmosphere technology. Isolcell was the first company in Italy to develop this method of food preservation, later extending the use of its nitrogen generators to other production sectors. It is recognized as a world leader and is part of an industrial group headed by Finanziaria Unterland SpA.
Isolcell is present worldwide with a network of distributors and resellers, operates according to the highest quality standards and its product range complies with the most stringent European and international directives.
On-site nitrogen production, sustainable productivity

The air we breathe consists of 78% nitrogen, 21% oxygen, 0.96% argon, and 0.04% carbon dioxide, plus other components. Nitrogen is an inert gas that lends itself to a multitude of uses. Over the years, we have invested considerable resources to study the application possibilities and make them easily available to companies. Traditional supply methods such as high-pressure cylinders or liquid nitrogen tanks create disadvantages for companies.
Transport and rental costs, delays in external supply, the need to have a dedicated and delimited space, safety controls,
and maintenance… all result in significant costs that are not always predictable. These factors have pushed Isolcell, for some time, to study an alternative system, more economical, functional, and ecological: the self-production with the use of nitrogen generators.
Isolcell generators: nitrogen right now, simply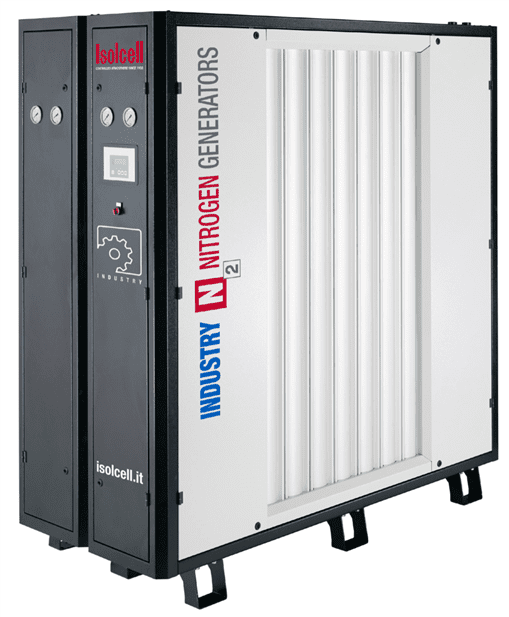 The traditional methods of nitrogen distribution, especially in the last 15 years, have been gradually replaced
by autonomous generators. This has resulted in clear advantages for companies. First of all, they can count on a constant and punctual supply that does not depend on external sources.
Moreover, they can achieve significant savings, cutting the costs of other types of supply. They can also operate with simplicity: just one click is enough to produce the necessary quantities of nitrogen on-site, in total safety and with the desired purity.
Food grade nitrogen

Nitrogen is classified as a food additive when it comes into direct contact with food. The abbreviation identifying food nitrogen is "E941". In the European Union, a specific directive indicates the minimum requirements for the use of this gas as a food additive. Isolcell's nitrogen generators with PSA technology can supply nitrogen
in full compliance with the parameters indicated by this directive.
Benefits:
Nitrogen in the food industry is used to maintain the original organoleptic and nutritional characteristics of packaged food products. Modified Atmosphere Packaging (MAP) involves the use of nitrogen, carbon dioxide, and oxygen mixed in optimal percentages to meet the preservation requirements of various food products. These gas mixtures slow down the aging process, preserving color and taste with freshness.
Nitrogen is generated only on demand (stand-by function). From 0.25 to 0.39 Euro per M3 of nitrogen produced, depending on the purity delivered. Amortization of the generator cost normally in less than 24 months.
The choice of high-quality molecular sieves combined with an automatic filling system specially designed by Isolcell technicians allows to limit to a minimum the maintenance interventions on the generators and eliminate costly reintegration or replacement of molecular sieves which, in optimal conditions, have a life of more than 50,000 working hours.
Nitrogen generators Isolcell PSA NIMOS NL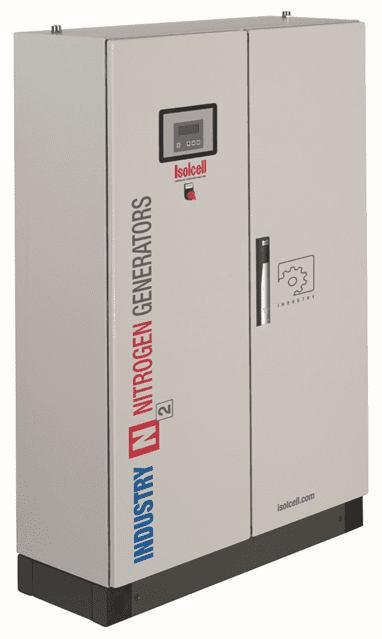 Isolcell PSA NIMOS NL nitrogen generators are more efficient, quiet and easily expandable, compact, and with an essential geometry to ensure easy access to all pneumatic and electronic components.
The components that constitute the NIMOS NL generators, including the design of the machines, are designed and manufactured with the latest technologies and are the result of more than 12 months of work at the plant in Laives (Bz) by the technicians of Isolcell's Research & Development Division, followed by a long series of field tests carried out at some historical customers.
Numerous international trademarks characterize a series of nitrogen generators destined to be the point of reference for many years.
The product range, the widest currently available on the market, consists of 2 series of machines able to cover the needs of most industrial applications:
NIMOS NL PSA M Series for low flow rates, from 0.5 to 33.7 Nm3/ hour, compact but with the same reliability characteristics as the larger models.
NIMOS NL PSA S-D Series for medium and large flow rates, from 3 to over 5000 Nm3/hour.
The design of the Isolcell PSA NIMOS NL S and D nitrogen generators minimizes space requirements and allows nitrogen flow rates from a few liters per minute to thousands of cubic meters per hour.
Thanks to the modular design, you can expand your production capacity by adding additional columns or new modules. It will therefore be possible to exploit the advantages of a "Multibanking" system capable of optimizing work cycles and energy consumption.
All Isolcell nitrogen generators are equipped with a residual oxygen analyzer which, in addition to measuring and displaying the residual oxygen value, controls the correct operation of the generators, guaranteeing the production of nitrogen of quality perfectly compatible with your needs. The operating parameters of the generators are displayed on a 5" color touch screen.
ISOLCELL WEB SERVER INDUSTRY 4.0
The new N2 Industry web server designed and developed by Isolcell is a remote control system dedicated to data collection, remote control, monitoring, and diagnosis of Isolcell's ON-SITE nitrogen production plant. The N2 Industry web server removes all restrictions on the distance between the user and the system. Remote control access is possible via computer, smartphone, or tablet.