Modularity, flexibility and practicality are key concepts in a company whose strong point is technological innovation and development. This is what the market wants and this is what customers get from the Italian based Makro Labelling, international standard setter for industrial labellers in the beverages, food, detergent and pharmaceutical sectors.
The thirty years' experience of its founders, a team of 130 people, a dense and well organized sales network consisting of the branch offices Makro UK for the United Kingdom and Makro North America in Saint-Philippe (Montreal) for Canada and the USA, together with agents and representatives in the most important countries throughout the world, plus an impeccable assistance and spare parts service guarantee satisfaction of every labelling need and constant expansion on all the most important international markets.
A range of labellers for production speeds of 1,500 to 50,000 b/h
The range includes labellers able to process from 1,500 to 50,000 bottles per hour, applying up to five labels per bottle and available in wet glue, hot melt, self-adhesive and combined versions. For companies with limited production requirements, the MAK 01, MAK 02 and MAK 1 labellers provide speeds of up to 12,000 b/h with mechanical or electronic rotation of the bottle plates. With special applications and able to cope with production speeds of up to 50,000 b/h, the MAK 2, 3, 4, 5, 6, 7, 8 and 9 labellers, on the other hand, satisfy the needs of medium to large companies.
The range includes a high speed self-adhesive labeller with reel winders and non-stop system enabling production to continue at maximum speed even during reel changes and a combined labeller to apply the fiscal guarantee seal.
Thanks to a special, patented paper delivery system, the new MAK AHS2 self-adhesive labelling module responds to the need for faster, more precise machines. It guarantees a linear speed of 100 metres a minute at a label pitch of 20 mm.
For the high volume PET market, such as the water and soft drinks sector, Makro Labelling has developed the MAK Roll Feed series of rotary labellers: The 6,000 b/h to 40,000 b/h production speed and use of wrap-round plastic labels on a reel with hot melt application guarantee maximum economic benefits in the production process.
The modularity of the machine also allows the roll feed unit to be replaced with a hot melt unit for pre-cut, wet glue or self-adhesive labelsIn common with the entire Makro range with the Vision Control system to verify the quality and correctness of the packaging and manage rejects: two new inspection systems – RAPTOR (Rapide to Orientate) and A.L.I.C.E. (Advanced Label Inspection and Control Environment), which guarantee high performance, less production rejects and the highest finished product quality.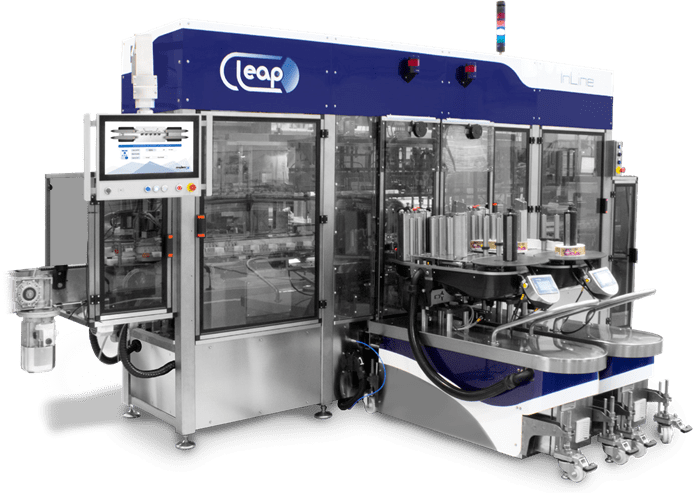 CLeap (Concept Leap)
Makro In 2017 created and presented a new concept of labelling machine using longstator linear motor technology, setting a new and revolutionary standard.
Cleap's concept has led to the creation of the new Inline, which, in addition to high precision and labelling speed, also offers the advantage of no format changeover: in just a few minutes the operator is ready to start production again. Its versatility and production flexibility make it ideal thanks to its small footprint.