The Nirso company based in Busto Garolfo (province of Milan) was born in 1969 from an idea of Nirso Ezio.
Interested in the world of meat grinding, Ezio designs and develops a line of accessories for meat grinders, in particular it specializes in the production of molds and knives that largely satisfy most of the manufacturers of plants for the food industry and producers of cured meats on the market.
Ezio, starting from simple ideas, brings to the market an increasingly innovative and quality product over the years.
In 1991 Ezio left the family business to his son Dario, who has always been very passionate about the world of small mechanical parts, he brings the company into constant professional growth and expansion on the Italian and foreign market.
Since 2007, always attentive to market developments, the Nirso Company has been buying new numerical control automation systems with software able to control in a precise and detailed way the various processing phases.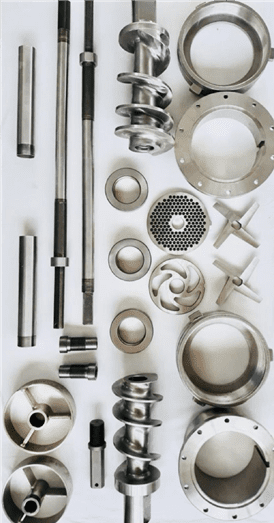 In 2017, Dario studies and manufactures a patented and certified cutting kit for food use for the production of mortadella, which allows to bring numerous benefits in the grinding phases.
After numerous steps between mechanical tests and paperwork, this patent repays Dario for many difficult moments, when the competition was strong and the market difficult to scratch.
After years of sacrifice and constancy, success has arrived, Nirso products have high quality standards and are among the most requested in the preparation of foods such as cured meats.
Another strong point of the company concerns the sharpening of molds and blades of any shape and size, with a department that presents high quality machinery.
In 2017, Dario added his son Marco to the company staff, representing the third generation, who deals with marketing and communication, supporting his father Dario in the various stages of mechanical processing, to steal all the secrets.
In 2021, thanks to the determination of his son Marco, the company proudly participated in the Meat Tech fair concerning the process and product technologies of the meat industry in Milan from 22 to 26 October, in conjunction with Host and Tutto Food Humility, simplicity, constancy great human qualities at the helm of the Nirso factory have led it to today's awards.
From attention to detail to logistics, each piece that leaves the company represents the past and the future, tools of the past and innovation come together obtaining the trust of the largest Italian food companies, all strictly Made in Italy.