We make it easier
The SAFEGATE type 4 range of safety light curtains is the ideal solution for the protection of a vast number of high-risk industrial applications, in particular those requiring a high level of integration of the muting functions.
SAFEGATE guarantees the integration of the muting sensors that can be connected directly to the safety light curtain.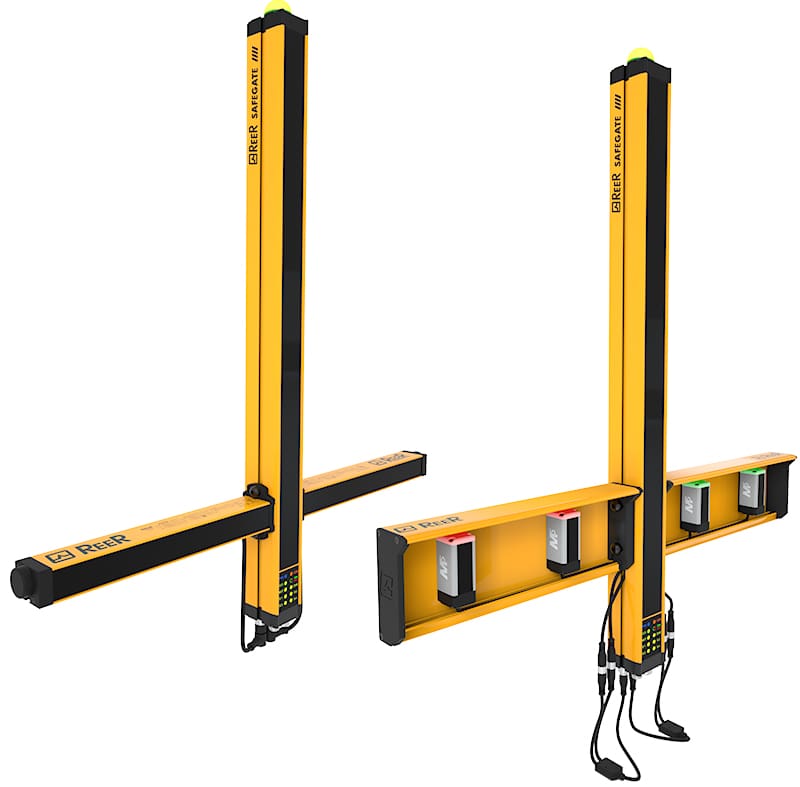 Figure 1 – SAFEGATE
Each barrier can be configured as:
• Exit-only (L-Muting) with crossed (X) or parallel (P) beams
• Entry-Exit (T-Muting) with 2 crossed (X) beams
• Entry-Exit (T-Muting) with 4 parallel (P) beams
Figure 2 – Muting type
Configuration can be changed at any time.
Hardware configurable models (SM/ SMO/SMPO) allow configuration of Muting logics and functional parameters via the Master connector wiring. Software configurable models (SMPO) allow configuration of Muting logics and additional functional parameters (i.e. Partial Muting) via Safegate Configuration Software (SCS). Programmable models (SMPO) allow further configuration parameters, ideal to address particular issues in more complicated application scenarios.
Safegate can be used with MA Muting arms (with pre-aligned and pre-configured integrated Muting sensors), with MZ Muting brackets (with M5 multi-beam photocells or MTRX retro-reflective single beam photocells) or with any other Muting sensor.

Figure 3 – Muting arms and Muting brackets MA and MZ
Sensors can be upgraded, added or removed at any time.
Models with integrated status lamp allow to easily recognise the status of the barrier.
Special Models "G" to optimise correct and consistent detection of transparent materials (i.e. glass) Special Models "V" with longer Muting arms for high-speed conveyors are also available.
Reer completes its range of access control safety light curtains with the new TRX models with retro-reflective passive elements.
These new models allow to have all wirings on one side only.
www.reersafety.com