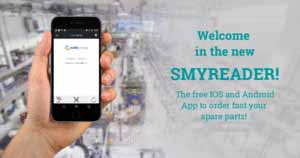 Bottling and packaging plants offered by SMI are equipped with the latest IoT technologies, in order to meet the competitiveness, efficiency and flexibility needs of almost 7,000 customers all over the world.
Competitiveness, efficiency and flexibility can be maintained during the whole machine life cycle, by replacing the components subject to wear with SMI original spare parts.
In order to make the purchase of spare parts easier for our worldwide customers, we have developed a series of innovative digital services, like the SmyReader application.
SmyReader is a free, easy-to-use app that can be downloaded from Google Play or App Store and allows to scan the QR code shown on SMI original spare parts to be replaced, automatically identify their characteristics and place them in real time in the shopping cart.
The list of spare parts generated can be immediately sent to SMI spare parts department in order to receive a detailed quotation or directly proceed with the order.
Ordering spare parts has never been so easy.
SmyReader allows you to:
order spare parts whenever you want and wherever you are, 24/7
check immediately the price and availability of spare parts
select the delivery method you prefer
choose how to pay safely
SMI spare parts department is at your disposal for any further information you may need.