New tailor-made technologies to evolve the food and beverage processing and packaging market: this is what TecnoFerrari intends to do when it designs its self-driving vehicles.
The company (which, this year, will be present at Drinktec, Munich) was founded in 1966 in Fiorano Modenese, in the heart of Ceramicland, and immediately set itself the sole objective of improving the management of production processes.
After acquiring considerable knowhow in the ceramic industry, it decided to extend its solutions to other industrial sectors, continuing to study and produce alternative handling methods, always in favour of progress. Thus identifying automation as the key to success and productivity, TecnoFerrari has been offering its customers integrated solutions for handling and processing products for years.
The real difference is the ability to deliver an entire plant made up of self-driving vehicles completely customised to the customer's needs. From the supervision software to the construction material of the vehicles themselves, from the lifting capacity to safety: everything is studied down to the smallest detail to guarantee maximum reliability and efficiency.
TecnoFerrari automatic vehicles are battery-powered shuttles capable of moving automatically by means of a laser-guided or magneto-guided guidance system, adaptable to every plant requirement and every type of product.
In both cases the architecture of the vehicle is the same, which brings advantages in terms of maintenance and spare parts, services offered by TecnoFerrari, which can boast a team of specialised technicians and a spare parts warehouse that is always well stocked and efficient.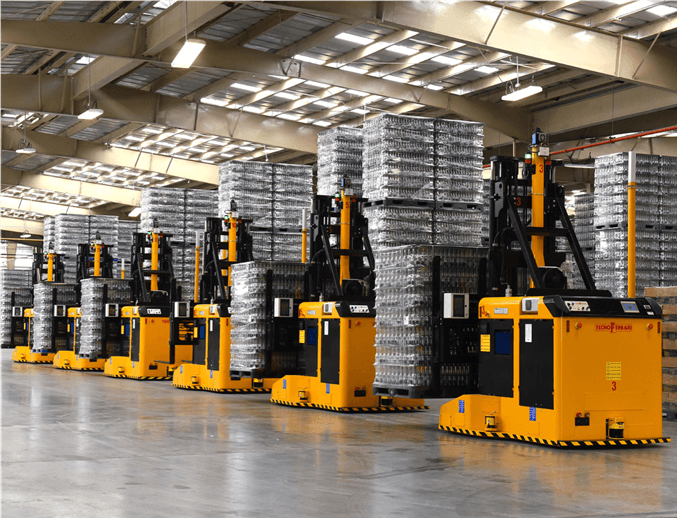 There have been several occasions to verify the quality of TecnoFerrari vehicles: a feature not to be underestimated is the possibility of delivering machinery created entirely in stainless steel, ideal for all sectors that require significant attention to the sterilisation of environments and materials such as food and beverage.
The management of statistical data concerning the entire handling process is recorded by the highly innovative and specialised supervision software that the TecnoFerrari team has developed in-house.
Vehicle recharging is also done automatically, including a re-charge station: in this case the vehicle dedicates all downtime to self-recharging its batteries, avoiding any intervention by the operator.
TecnoFerrari's innovative solutions can also guarantee a high level of safety for operators: all machines are equipped with the latest generation of safety systems precisely to avoid any accidental impact. The main features are programmable virtual laser bumpers, mechanical bumpers, side strips and acoustic and flashing warning devices.
Not only investment in design but also in reducing the distance to foreign markets. TecnoFerrari is now present all over the world, thanks to its offices in the USA, Turkey, Brazil and China as well as its team of reference partners in India. This is a way of getting closer to its customers to guarantee shorter delivery times and spare parts always available for any need.
TecnoFerrari is not just a supplier but an ideal consultant and partner for any type of handling, processing and logistics plant.