DBS is the line of uniquely designed brushless gear motors with built-in drive, made for ultra-high performance
An excellent machine is made of excellent components. Mini Motor knows this all too well and for 55 years it has been bringing to customers extremely efficient gear motors on the cutting edge of technology. The Reggio Emilia-based company has always chosen to design custom solutions for those complex and difficult applications where a standard product just won't do. This choice developed into excellence and today Mini Motor electric gear motors stand out for their compact size, speed, and resistance under any condition.
Up there with the top products we find the family of DBS brushless gear motors with built-in drive system where all the elements – motor, driver and reduction gear (where fitted) – are packaged in a single product of indisputable excellence. The 4096-PPR multi-turn absolute encoder offers maximum freedom in terms of speed and position adjustment, maintaining the distance even when the motor is off.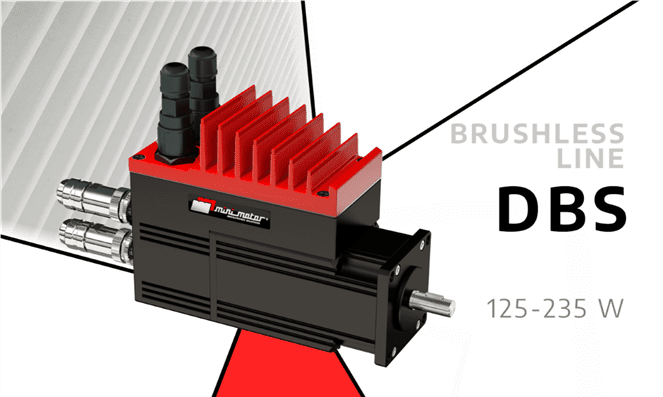 The great innovation about DBS is the presence of an accelerometer that is able to detect gear motor vibrations. The accelerometer plus the other sensors that detect temperature, current and speed are able to identify anomalies within the sensors themselves or from the machine systems connected to them, implementing real predictive maintenance.
What's more, with DBS several motors can be connected in a cascade system via the main communication protocols: EtherCAT, Ethernet/ IP, Powerlink, Modbus, PROFINET I/O and CANOpen.
The wireless protocol was recently added to these 6 fieldbuses. Mini Motor has in fact patented the first all-wireless gear motor in the market powered by an inductive charging battery. This means no drag chains, which translates into lower machine costs and greater freedom of movement.
A character of steel the one of the Clean Series!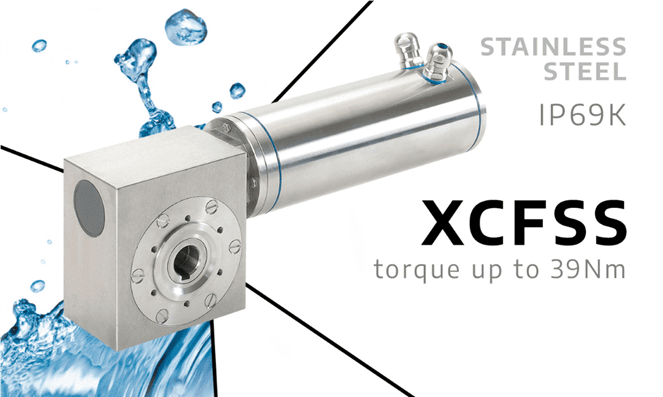 For demanding sectors like the food & beverage and pharmaceuticals industries, Mini Motor has designed also its SS series of motors that combine a small footprint with the superior specifications of Aisi 304 and Aisi 316L stainless steel: resistance to corrosion, compact surface, lack of porosity, high bacterial removal performance, and low bacterial retention.
It complies with IP69K protection rating and is ideal for aggressive environments or applications demanding high standards of hygiene.
About DR Series

The DR series represents the next step in classic single phase and three phase-motors. Complete with integrated drive, connectivity with the most common field buses, and a new design reducing the footprint and optimizing the use of space, they represent the perfect integration of drive, motor and gear unit, lowering energy consumption.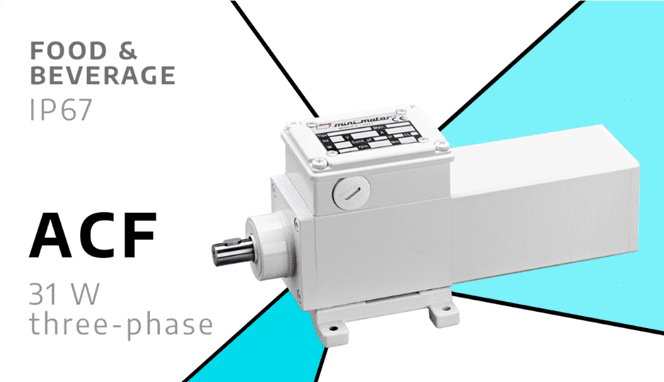 The great capacity for customization and extremely high quality at competitive prices are guaranteed by each product. For all applications demanding an IP67-rated seal, Mini Motor has designed a digital concept drive capable of adjusting the speed of motors and gear motors using sensor-less vectorial control: the DRF.
It is built according to the guidelines issued by the European Hygienic Engineering & Design Group, which can be applied to ACF, MCF, PCF and PAF three-phase asynchronous motors up to 270 Watt. The technical features of the DRF are ideal for use in the dairy, bakery, winemaking, fruit and vegetable processing, and oil sectors, as well as the Food industry in general.
The Reggio Emilia based company is the benchmark in the Food world not only for the quality of its products but also for its fast and dependable after-sales support service. Supported by an online ticketing system, a qualified team of mechanical and mechatronic engineers is ready to answer questions and provide assistance within 24 hours.
Mini Motor wants customers to get service as excellent as the quality of its motors, an unshakable commitment
that is at the heart of the company's philosophy.