The whole world has a new awareness: the connection between hygiene and health cannot just exist but must be tangible.
How? This is Colussi Ermes' starting point. This company specialized in food industry washing systems has seized the opportunity to renovate their mission, which has always aimed to pursue perfection in terms of hygiene and sanitization.
Colussi has done so trying to strengthen the concept of safety in the food industry world.
During such an intense period, many food-production companies faced the demand to comply with new strict standards.
No one knows this better than Colussi Ermes who has met many new requests coming from its clients: ranging from the meat to the dairy industry, from the confectionary field to fruit and vegetable production, from the poultry sector to fish industry.
How can safety be increased during the food production and washing cycle?
With solutions that allow to reduce cross-contamination risks thus protecting consumers and also with the kind of care for every detail that distinguishes Colussi Ermes.
Machine design, energy consumption reduction, water and detergent use, cycle automation, loading/offloading automation and the parameter monitoring in compliance with HACCP rules are just a few of the features that combined in a single washing system make the difference.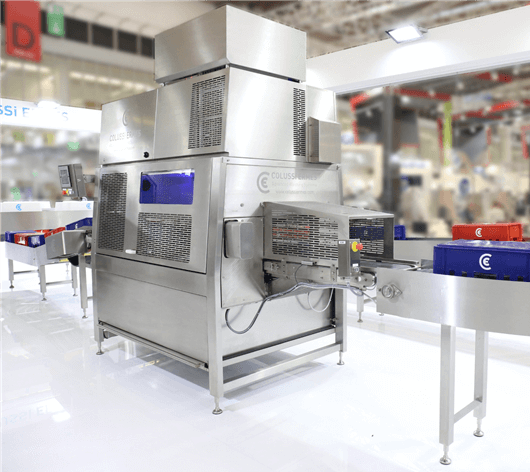 The CIP (Clean in Place) self-wash programs are an example of this. Their goal is to protect and depurate the production lines from organic and inorganic contaminating agents.
Thanks to this automatic system – that involves all of the machine circuits, walls and key points and that is performed with pre-set pressure and temperature including also a final rinse and sanitization phase – companies can reach the high safety standards that are required.
Colussi Ermes' challenge for 2022 becomes another opportunity to make the world a safer place. Two new plants have been built comprising the new Centre Colussi Research site.
This is an actual innovation space, a lab where experts can study new improved systems for industrial washing, sanitization and drying that guarantee energy savings and that aim to ensure higher quality, safety, performance and efficiency levels.
The new site, which are completely covered with solar panels, qualify Colussi Ermes as a model of sustainable excellence.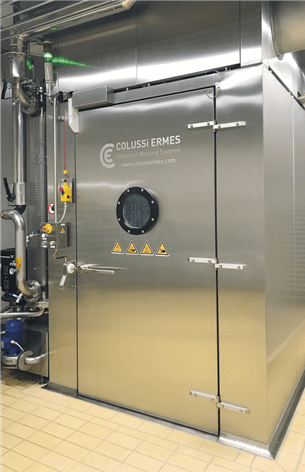 Ermes exports all over the world, extensively in many countries. Europe, North America and Australia are the main markets where the most important sales targets are constantly reached.
Furthermore, with the aim of strengthening the efficiency in the American market, Colussi Aws Inc. has been established in California, together with an all-American brand.
Saving resources Large and small companies working in the food market and using COLUSSI ERMES machines have been able to achieve extraordinary advantages such as:
• dramatic energy and chemical savings
• environmentally friendly wash operations
• reduced wash time vs. very high hygienic and sanitary standards
• increased production capacities and safety
• better working performance of their staff
Colussi Ermes is continuously innovating to improve your safety. This is a company that marked its path with its resilience spirit which is fundamental in this memorable period.