What is the secret of the successful Rademaker Industrial Bread Line? It is not only the superb quality or the hygienic design of the line. Or its efficient operation, versatility or reliability and robustness.
The real secret of Rademaker, a Dutch-based company that develops and provides solutions for the food processing industry all over the world, is that its technologists are continuously working on improving and optimizing the Rademaker Industrial Bread Line, so that customers always have state-of-the-art equipment.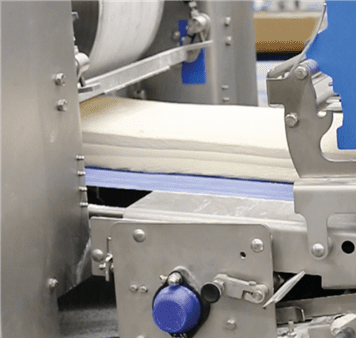 Recent innovations include a further improvement in the DSS presheeter to accommodate a larger variety of doughs and an improved dough recycling system. And while the mechanical basis is solid and smart, the true line and process optimization originates in the software that controls the line. Rademaker introduced its first Crusto Bread Line in 2006, to meet customer demands and expand its portfolio of production lines for puff pastries, croissants, pizzas, pies and flatbread.
In 2018, the new Rademaker Industrial Bread Line was introduced. Today's market requires an ever-increasing variety of breads, with different dough types, different crumb structures and different sizes. Bakeries, wanting to accommodate the market requirements, in turn ask for modular bread lines that allow for fast changeovers and offering the highest accuracy, while meeting the most stringent hygienic requirements.
Four components
Contrary to other brands, Rademaker's Industrial Bread Line is based on sheeting technology. A conscious choice, as this gives bakeries the freedom to handle a wide variety of dough types, from 'green' to pre-fermented and strongly hydrated doughs.
The line is capable of generating a wide range of high-quality products that can be produced at capacities from 500 kg up to 6.000 kg of dough per hour. It consists of four major components: pre-sheeting, sheeting, makeup & decorating and dough-recycling.
Unique pre-sheeting system
Sheeting the dough is essential for the final product. The dough is kneaded by the mixer and processed in the presheeter. The pre-sheeter transforms dough batches into a continuous dough sheet. Rademaker sets itself apart from its competitors with its proven Double-chunking Sheeting system (DSS), which has been updated to meet the latest requirements.
An innovative dynamic hopper transports the dough in a controlled manner, keeping the shape of the dough chunks linear and constant. Landscape sensors and separate belts carefully guide the chunks in the sheeter, ensuring size and weight accuracy. Chunk weight and length is exceptionally accurate, leading to a more stable and consistent dough sheet and eventually high-quality baked products.
Cost savings and better overall performance
Many doughs, for instance Italian bread types like ciabatta or focaccia, tend to have a very high water percentage, making it liquid and sticky. In the previous DSS version, oil was used to prevent the dough from sticking to the DSS hopper.
Effective as this is, cleaning the line is a time-consuming issue. Rademaker replaced oil by wax, reducing the required amount by a factor four compared to oil. Cost-savings are considerable and return-on-investment for the wax distribution system is only 1 year.
Cleanability is improved due to easily removable parts and because wax is used instead of oil. But maybe even more important, the wax-version of the DSS creates a more consistent chunk volume and a corresponding more consistent dough sheet. This results in a higher accuracy on the final product.
Superb dough homogeneity
Thanks to the minimal transportation height difference in the pre-sheeting system, dough homogeneity and structure are maintained. The wider belts with advanced flour strewing and optimized waste bins, in combination with a design that meets the most stringent hygienic standards, allow for cleaner working. Compared to the previous version the new system is easy to operate and better accessible for cleaning.
Sheeting process
As part of the sheeting process, the continuous dough sheet created by the DSS is reduced to the required dough thickness. In some of the reduction stations, non-stick upper rollers reduce the dough thickness to the desired thickness, ensuring that dough characteristics remain intact.
Depending on the specific customer demands, a further set of stress-free reduction stations and other sheeting options define the sheeting configuration.
Flexible cutting in make-up & decorating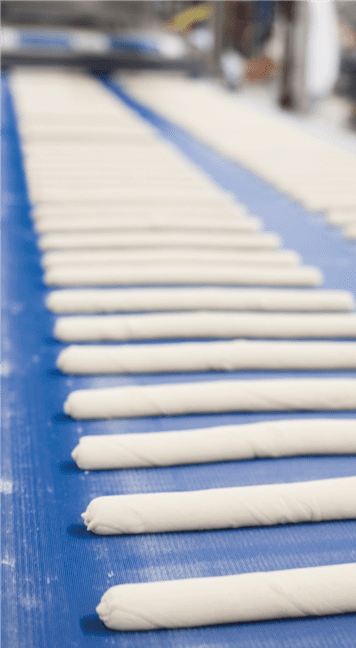 The final processing steps take place in the make-up & decorating section of the Rademaker Industrial Bread line. The design upgrade has resulted in a length reduction, a 400 mm wide rework conveyor and an increased hygiene level. The weighing conveyor was also reduced in length and fixed to the floor for greater stability and higher accuracy.
Amongst the various product cutting solutions is a Box Motion Cutter. It offers different cutting processes in one machine and a unique dough sealing solution, sealing the softer dough products and avoiding products from cracking open during baking. Thanks to an ergonomic design, tools can easily be changed from the side, making it easy for the operator.
Fast products changeovers
In the molding conveyor, the side guides are repositioned on the lower belt, yielding a better molding performance. A simple, single operator control that allows fast, fool-proof adjustment of the molding table in height and molding degree to ensure fast changeover and product flexibility.
The molding conveyor's unique design offers optimal access from both sides, allowing for fast product changeovers, cleaning and maintenance. As with other parts of the Rademaker Industrial Bread Line, the length has been reduced.
Unparalleled dough recycling
Traditionally, a part of the dough ends up as rework, especially when working with non-rectangular shapes like omega baguettes. With Rademaker's new, in-line dough recycling system, 10 to 40 % of the return dough may be re-used.
Side trim and omega trim can be transported back to start of the DSS as small cuts of rework and efficiently re-entered in the process. Client-specific rework dough options can be catered on specific requirements. Thanks to the controlled distribution of rework dough, the recycling process is highly stable and reliable.
Flexibility and line length

The Rademaker Industrial Bread Line is characterized by its flexibility. There are multiple configuration options and modules which can be exchanged fast and easily.
The Rademaker philosophy calls for building functional production lines, as short as possible. With that in mind, line length has been reduced more than two meters compared to the first-generation Bread Line, saving floor space and resulting in a higher output per square meter.
Hygienic aspects

The Rademaker Industrial Bread Line is designed according to Rademaker Sigma guidelines, directly derived from various high-end requirements from GMA and EHEDG. Standoffs and machine surface are tilted at an angle to allow water to drain easily, to avoid contamination of the product zone and to reduce drying time after cleaning.
Food-contact parts are constructed only with approved materials. All surfaces are smooth to help reduce microbiological contamination development. In addition, all parts of the line are designed for wet cleaning.
Work in progress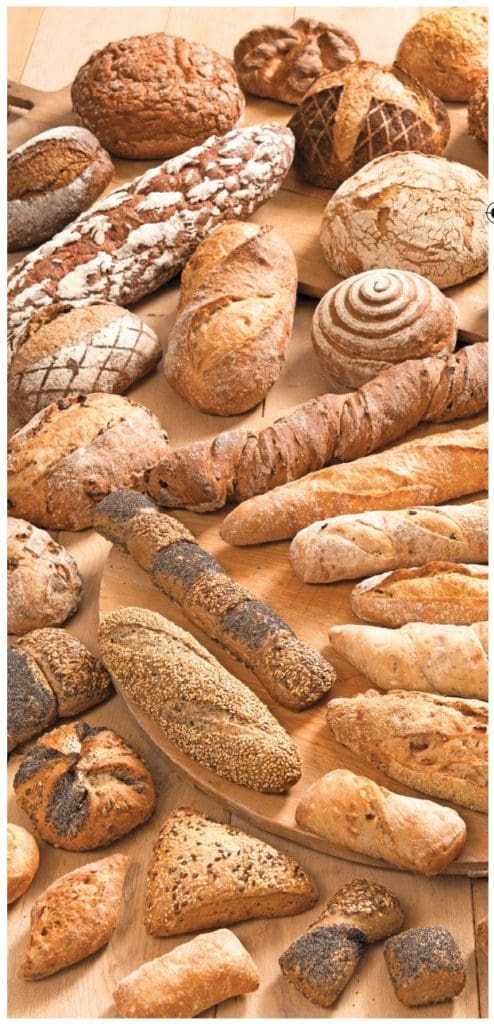 The Rademaker Industrial Bread Line is a work in progress, as Rademaker is continuously working on further
improving the line, meeting and anticipating new customer demands, market developments and legal requirements. Rademaker thus offers a solution for every industrial bakery, large or small.
In addition to 'engineered to order' lines, Rademaker now increasingly focuses on 'configured to order' production lines, offering affordable standard solutions to most applications. With the flexible, reliable and robust Rademaker Industrial Bread Line, you are assured of the highest uptime, a long lifetime, and minimal spare parts consumption.
Fast maintenance, cleaning and changeovers ensure efficient production. This, together with the excellent dough handling characteristics, results in a proven decreased cost of ownership.